Russia ETF Rewards Resolute Investors as Stock Volatility Surges
Market Vectors Russia ETF outperforms 775 U.S.-traded funds

Price swings in RTS equity index at widest since late June
U.S. investors brave enough to put money into one of the most volatile stock markets are reaping some of the biggest profits in the world.
The Market Vectors Russia ETF has returned 15 percent in 2015, the best performance among 776 U.S.-domiciled exchange-traded funds with assets of at least $100 million, according to data compiled by Bloomberg. Seven weeks ago, it trailed more than 260 of them, having slumped 1.6 percent for the year.
The turnaround came as oil, the nation's largest export, rebounded 23 percent from a six-year low and the ruble rallied the most among the world's currencies, boosting speculation that the country's economic slump will be milder than forecast. The dollar-denominated RTS Index completed the biggest gain since 2009 last week as government troops and separatists pulled back tanks and light weapons in eastern Ukraine, fueling speculation that a cease-fire will lead to an easing of international sanctions against Russia linked to the conflict.
"The rally that is happening is fundamentally justified," Thomas Clarke, who manages the $1.9 billion at William Blair Macro Allocation Fund, said by phone from London last week. "There are always short-term risks when it comes to Russia, but Russia's market is highly attractive long-term, and the value is substantially higher than the price."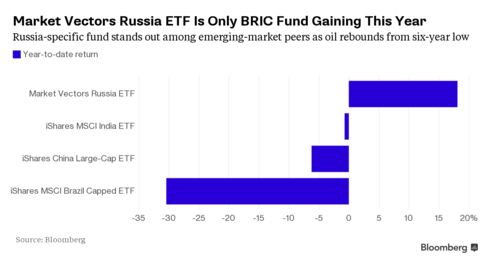 Russia, beset by its first recession since 2009, has been struggling to contain an exodus of capital, which accelerated last year after the U.S. and the European Union imposed sanctions over the conflict in Ukraine and oil prices collapsed. The world's largest energy exporter recorded a net inflow of $5.3 billion from July through September. It was the first quarter in which more money came in than went out since the period that ended in June 2010. Annual inflation unexpectedly decelerated in September for the first time in three months.
The RTS Index rallied 16 percent in the five days through Friday as 90-day historical volatility, a measure of price swings, increased to 33 percent, the fourth-highest level among the world's major equity indexes, data compiled by Bloomberg show. The Market Vectors Russia ETF, the largest investing in Russian equities, jumped 11 percent to $17.27 in its biggest weekly gain since February.
Clarke moved into the ETF in March 2014 as other investors were fleeing Russian assets after President Vladimir Putin annexed Crimea. Initially it made up 1 percent of his fund, and within a week he raised it to 2 percent. While he has made adjustments in reaction to developments in the Ukraine conflict, including reducing holdings after the downing of a Malaysian Airlines jet and increasing them following a cease-fire agreement, the fund has never made up less than 1 percent of his portfolio.
Fund Performance
He reduced the allocation to 1.25 percent from 2 percent in late August, a move that he said reflected caution on emerging markets generally and was "not specific to Russia." The William Blair Macro Allocation Fund has outperformed 95 percent of its peers in the last three years, returning 5.5 percent, the data show.
The Micex Index trades at 6.1 times projected 12-month earnings, the cheapest among emerging-market peers. Brent crude, the benchmark traders use to price Russia's main export blend, jumped 9.4 percent to $52.65 a barrel last week, a little more than half its five-year average price. The ruble appreciated 7.6 percent, the second-best performance in the world.
Rudolph-Riad Younes, portfolio manager at at R Squared Capital Management LP in New York, is skeptical of the rally in Russian equities. He bought into the Market Vectors Russia ETF in January, when it was near a 2009 low, and isn't looking to add any more.
ADR Rebound
"We remain not constructive on the medium-term prospects," he said by e-mail from Minsk, Belarus last week. "Lack of structural reforms, continued economic weakness and weak oil price are still here."
The Bloomberg Russia-US Equity Index gained 8.8 percent to 50.95 in the five days through Friday, the biggest weekly gain since February when the Ukrainian cease-fire deal was struck. The advance erased the gauge's decline for this year.
Moscow-based aluminum producer United Co. Rusal rose for a ninth day, adding 0.3 percent to HK$3.36 at 11:16 a.m. in Hong Kong and heading for the longest stretch of gains since Jan. 2010.
Aleksei Belkin, the chief investment officer at Kapital Asset Management, views the recent rebound in Russian equities as a trading opportunity. He said he bought into Lukoil PJSC, Sberbank PJSC , GMK Norilsk Nickel PJSC last week to take advantage of it.
"I do expect it to last until December," he said by e-mail. "Politics remains a crucial element to the Russian market and it remains rather unsupportive, but the global macro background has improved."
(A previous version of this story corrected the spelling of the fund name in the fourth paragraph.)
Before it's here, it's on the Bloomberg Terminal.
LEARN MORE