It's Glencore Versus Goldman in Metals as Miners Cut Production
`China is the central issue,' Red Kite's David Lilley says

Glencore cut zinc production, shares up 86% since Sept. 28
For years, a copper replica of Wall Street's Charging Bull sculpture stood in the lobby at the London offices of Red Kite Group, one of the biggest metals hedge funds. With prices near six-year lows, a new statue faces it, an even bigger roaring bear.
The bear, made of copper so shiny you can see your reflection, epitomizes the negativity in a market that's seen prices cut in half since 2011. Whether a turnaround is imminent or more gloom lies ahead will dominate conversation at the LME Week in London, the annual gathering of miners, traders and buyers that starts on Monday.
Glencore Plc last week became the flag-bearer for a revival, promising to cut zinc production by a third and sparking one of the biggest rallies in metals this year. Pessimists such as Goldman Sachs Group Inc. say the gains will be fleeting as the economy in China, the largest buyer, shifts away from a metals-intensive, investment-led growth model.
"China is the central issue," David Lilley, the co-founder of Red Kite, which oversees $2 billion, said in an interview. "However, it is noteworthy that the current conditions in the copper market are actually considerably better than most market commentary. Demand has been disappointing, but supply has also been worse than expected."
Metals Market
The uncertain state of the metals markets can be seen in the manic share-price swings at Glencore, a company that mines and trades metals including zinc, copper and aluminum. Its stock crashed 29 percent on Sept. 28 to a record low on concern weak prices threatened its ability to repay debt. In the two weeks since, the shares have almost doubled.
Billionaire Chief Executive Officer Ivan Glasenberg says the lows seen in metals prices don't reflect underlying supply and demand and have been distorted by speculation, and he's willing to manage production to support markets.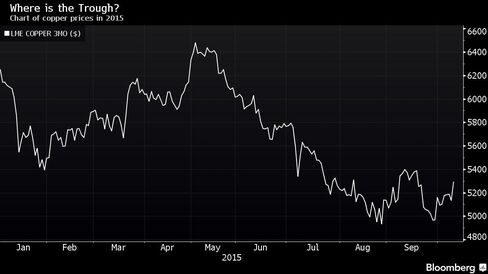 Zinc capped the biggest one-day gain in at least 26 years on Friday and copper jumped 3.1 percent. Annual zinc output will fall by about 500,000 metric tons as Glencore reduces output from mines in Australia, Peru, and Kazakhstan, making the reduction equivalent to almost 4 percent of world output. The company also reduced its copper output last month.
Output Cuts
Freeport-McMoRan Inc. has also cut production. Meanwhile, riots in Chile and droughts in Zambia and Papua New Guinea also curbed metal supply, with more than 1.5 million tons of copper affected this year, Citigroup Inc. estimated last month.
There remains plenty of bearishness around. In a Bloomberg survey of 23 traders, bankers and brokers taken during the first week of October, all but two said metals prices are heading lower.
"The question people will be asking during LME Week is: Are we overextended now?" said Michael Nowak, global co-head of metals at JPMorgan Chase & Co. in London. "Everybody is trying to pick where the bottom of the market is."
Indications of constrained supply are undermined by economic weakness in China, the world's biggest consumer of raw materials. Its manufacturing industry is contracting, imports and exports are falling and the World Bank recently cut its growth estimate.
Back to 1990s
Copper, regarded as an economic bellwether, may reach a low of $4,450 a ton by 2017, based on the median from 16 responses in the Bloomberg survey. That's 17 percent below the price on Monday.
"We seem to be heading back to the 1990s, when assets were cheap and commodities businesses were retrenching," said Peter Sellars, head of metals trading at Castleton Commodities International LLC, in a phone interview.
Glencore lost 2.3 percent to 126.15 pence by 1:34 p.m. in London. The company said earlier Monday that it's in talks to sell two copper mines in Australia and Chile after approaches from buyers.
Mining companies are still producing too much copper, say analysts at Societe Generale SA. They predicted the annual oversupply will expand 68 percent to 420,000 tons next year, according to forecasts released last month. Goldman Sachs said copper will fall to $4,500 by the end of 2016, implying a 16 percent retreat, according to a report on Monday.
"Market sentiment has been quite bearish," said Sid Tipples, co-head of metals at JPMorgan. "It seems clear that producers are under pressure and at some point it is perhaps inevitable that we will see further cutbacks in production."
Peter Grauer, the chairman of Bloomberg LP, the parent of Bloomberg News, is a senior independent non-executive director at Glencore.
Before it's here, it's on the Bloomberg Terminal.
LEARN MORE