Why Glencore's Longtime Lenders Haven't Walked Away
Commercial banks lend about $20 billion to commodities house

Glencore CEO says banks `very supportive' of trading company
Each summer, Glencore Plc gathers its bankers at an exclusive Swiss resort for a day of golf. The hospitality has a rationale: those who convene at the Golf Club Bad Ragaz, nestled among Alpine foothills, represent the company's financial lifeline.
Three months before this year's outing, 60 lenders -- from BNP Paribas SA of France to UniCredit SpA of Italy -- signed off on $15.25 billion in credit lines to the commodities house. That's more than double the $7 billion in revolving loans the company took out a decade ago.
Since May, Glencore's shares have dropped by more than half on speculation the firm may struggle to manage its debt burden during the commodities rout. While that turmoil rattled markets and forced Glencore to step up debt-cutting plans to reassure investors, it didn't shake the backing of the firm's lenders, according to five of the company's bankers and executives at rival commodity trading firms who asked not to be identified because they aren't authorized to speak publicly.
"Glencore is a very attractive client to the banks," said Gregory Turnbull-Schwartz, an investment manager at Kames Capital Plc. "The short-term nature of the lending may not be very lucrative, but there are multiple areas you can make money off them, so you'd be reluctant to pull the credit line."
Marc Rich
Glencore traces its origins to the firm started by Marc Rich in 1974, and for decades has been a relatively low-risk, low-return client for dozens of mostly European and Japanese commercial banks. Commodity traders, especially deep-pocketed ones, can also award lenders with business such as mergers advisory assignments, project-finance lending and cash management.
Bankers also recognize that commodity traders are able to profit from volatility and lower financing costs as prices for raw materials decline. Take oil: last year, Glencore would have needed $220 million in loans to finance a super-tanker carrying two million barrels of crude; today, the same cargo requires about $100 million.
That helps explain why banks remain comfortable lending to commodity houses, even amid the market tumult. Vitol Group, the world's biggest independent oil trader, signed a record $8 billion of loans on Tuesday with 57 banks. Trafigura Pte Ltd., a large oil and metals trader, won improved terms on a $2.2 billion loan-refinancing deal on Oct. 1 through a group of 28 banks.
Some industry observers are less sanguine. In a note Wednesday, Bank of America Corp. analysts including Alastair Ryan and Michael Helsby said banks' exposure to Glencore may become a concern as regulators take a closer look at their risks tied to commodities. The analysts estimated banks have gross exposure to the trading firm of $100 billion. Bank of America is also a lender to Glencore.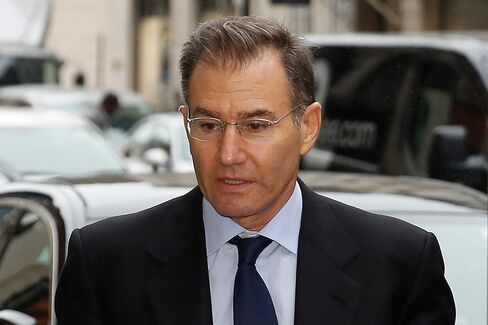 Mine Sales
For now, the market panic around the trading firm has abated. The stock has almost doubled from a record low after Ivan Glasenberg, the billionaire who's run Glencore since 2002, told employees in a Sept. 29 memo that the company had "very supportive, extensive and long-term core" banking relationships.
Glencore said Monday it's in talks to sell two mid-sized copper mines in Australia and Chile after approaches from buyers, adding to a $10 billion debt-cutting plan announced last month. The stock rose 0.3 percent to 129.50 pence by 8:41 a.m. London time.
The next big test for Glencore's banker ties, cultivated by Glasenberg and his treasury team over decades and consolidated on the golf greens, will come in May, when the firm needs to refinance its biggest loans.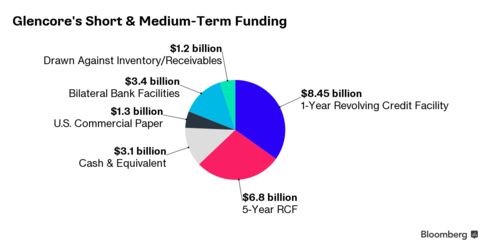 The firm renewed its key revolving credit facility last May, raising the $15.25 billion in two parts: a 12-month loan of $8.45 billion, and a five-year loan of $6.8 billion.
Glencore doesn't rely on Wall Street banks for financing, but rather on large commercial lenders, mostly in Europe and Asia. Less than 40 percent of its credit lines have been drawn, according to two people familiar with the matter who asked not to be identified because the information is private.
Based on its agreement, Glencore could renew its 12-month loan maturing in May 2016 for another year at its own discretion, for a small fee. In practice, exercising the option to extend the loan rather than refinancing it -- and inviting everyone afterward for a day of golf -- would signal it had lost the backing of its lenders, four bankers with knowledge of the loans said.
Glencore publicly released some details of its funding arrangements last week. A company official declined to comment further.
History suggests the firm will keep the lenders' support, while paying more to borrow next time around. During the financial crisis, Glencore renegotiated its revolving credit facility even as the cost of insuring against default for five years surged to more than 3,000 basis points, ending up with a loan costing 225 basis points over the three-month London Interbank offered rate. This time, five-year credit-default swaps have peaked at less than 900 basis points.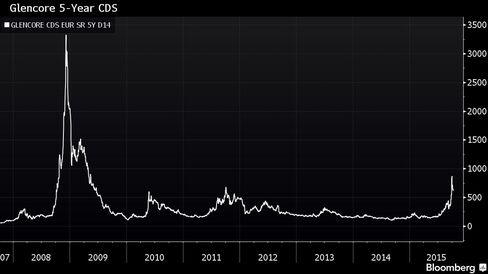 "While the cost of funding for the trading operations will increase, it doesn't mean the business is broken," Wen Li, an analyst at CreditSights, said in a note to clients.
Peter Grauer, the chairman of Bloomberg LP, the parent of Bloomberg News, is a senior independent non-executive director at Glencore.
Before it's here, it's on the Bloomberg Terminal.
LEARN MORE