Two countries try to mend fences after Korean nuclear test

N. Korea can deal with any threat from U.S., Kim says
North Korean leader Kim Jong Un and a senior Chinese official stood side-by-side to watch one of the biggest military parades ever staged in Pyongyang as the two countries seek to improve their strained relations.
Saturday's parade, broadcast live on the Internet, featured ballistic missiles, drones and artillery to mark 70 years since the founding of North Korea's ruling Workers' Party. Kim watched it with Liu Yunshan, a member of China's Politburo Standing Committee, who told him Friday that China is willing to work with North Korea to reopen international nuclear talks stalled since 2008, according to Xinhua News Agency.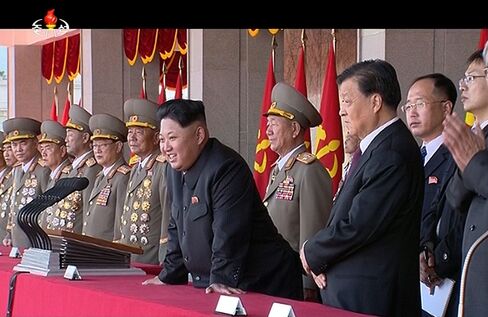 The attendance of China's No. 5 official reflected the attempt to mend fences. North Korea's third atomic test, conducted in 2013, frayed its relations with an ally worried about having a nuclear-armed neighbor.
"Liu standing next to Kim is a sign both China and North Korea feel it's about time they restored their traditional relations," Koh Yu Hwan, a professor of North Korea studies at Dongguk University in Seoul, said by phone. "China showed its respect by sending a senior delegation and North Korea showed its respect by placing him next to its leader."
North Korea refuses to stop developing nuclear arms and return to six-party nuclear talks unless economic sanctions against the country are lifted. Those sanctions tightened after each of North Korea's three nuclear tests since 2006. After its 2013 test, North Korea claimed it could now hit the U.S. with long-range nuclear missiles.
North Korea last month threatened to conduct a fourth nuclear test and vowed to launch a long-range rocket carrying a satellite. The U.S. and South Korea say such launches are essentially tests of technology used to develop intercontinental ballistic missiles, in violation of United Nations Security Council resolutions.
"Today our party can confidently declare our revolutionary armed forces can deal with any type of war sought by U.S. imperialists," Kim said Saturday in a speech ahead of the parade. He claimed that North Korea's military might had driven its enemies to an "extreme state of fear and insecurity."
The U.S., China and South Korea are showing a more united front on North Korea after Chinese President Xi Jinping and South Korean President Park Geun Hye separately visited the U.S. last month. Japanese Prime Minister Shinzo Abe is expected to meet with Park and a senior figure in the Chinese leadership in Seoul later this month to discuss North Korea and other issues.
Kim took power in 2011 after his father Kim Jong Il died. He has strengthened his control by stressing arms development and purging a series of high-level officials, including his uncle and one-time deputy, Jang Song Thaek, who was executed in December 2013 for alleged factionalism and graft.
Before it's here, it's on the Bloomberg Terminal.
LEARN MORE