Soybeans Rebound as U.S. Cuts Crop Estimate More Than Expected
Projection misses analyst estimates on reduced acreage outlook

USDA unexepectedly raises prediction for corn crop yield
Soybean futures rose after the U.S. said that domestic production will be smaller than it forecast last month, easing concerns about a glut that in September helped send prices to a six-year low.
Output in the 12 months that began Sept. 1 will be 3.888 billion bushels, the U.S. Department of Agriculture said Friday in a report. The average estimate of analysts surveyed by Bloomberg beforehand was 3.911 billion, while on Sept. 11, the agency had forecast 3.935 billion. Reserves before the 2016 will fall for a second straight month to 425 million bushels, down from 470 million in August.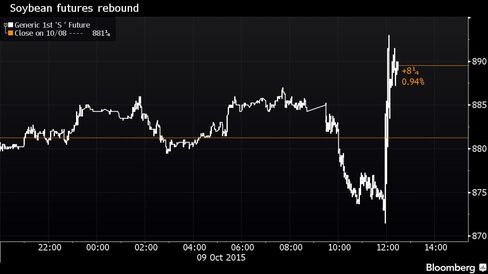 On the Chicago Board of Trade, soybean futures for November delivery rose 0.5 percent to close at $8.85 3/4 a bushel. Earlier, the price fell as much as 1.1 percent before the USDA report. The price gained 1.3 percent this week, trimming the yearly decline to 13 percent.
The U.S. is the world's top soybean grower, producing a record 3.927 billion bushels last year. While the latest harvest is set to be the second-largest, it has experienced damage over the summer months from unusually wet weather in parts of the Midwest, the extent of which is still becoming apparent.
"The cuts in soybean acreage was larger than expected," Dale Durchholz, the senior market analyst at AgriVisor LLC in Bloomington, Illinois said in an interview. "The passing of this report diminishes the risks of larger supplies and may increased demand. China should begin to buy more to lock in logistics and supply."
Wheat Stockpiles
Corn is the biggest U.S. crop, and the harvest that started Sept. 1 will total 13.555 billion bushels, the USDA also said. That's slightly lower than the 13.585 billion it projected in September and above the 13.482 billion average of 33 estimates. Last year's crop was a record 14.216 billion.
The USDA unexpectedly raised its corn yield estimate to 168 bushels per acre, from the 167.5 last month. Analysts had expected a reduction to 166.7. About 80.7 million acres may be harvested, the USDA said, down from the 81.101 million forecast in September.
Corn for December delivery fell 2.2 percent to $3.82 3/4 a bushel in Chicago, the biggest drop since Aug. 12.
"It's a bearish report for corn in that they raised the yield," said Arlan Suderman, an analyst at Water Street Solutions in Peoria, Illinois.
The USDA lowered its estimate for U.S. wheat stockpiles to 861 million bushels in the season that ends May 31, from 875 million forecast in September. The average estimate was 828 million.
The agency boosted its forecast for world stockpiles by 1.7 percent to a record 228.49 million metric tons. Wheat for December delivery fell 0.4 percent to $5.09 1/4 a bushel.
Before it's here, it's on the Bloomberg Terminal.
LEARN MORE