Protesters Greet Obama as He Visits Oregon Shooting Victims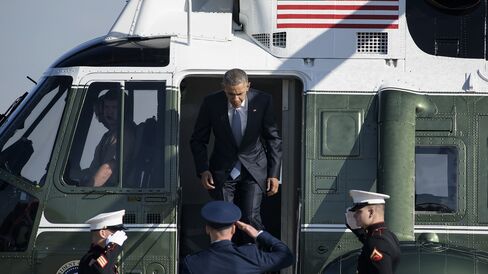 More than 8,000 sign up on Facebook to attend anti-Obama rally

President focused on consoling families, White House aides say
As President Barack Obama traveled to Roseburg, Oregon, on Friday to console family members of victims of last week's mass shooting, he sought to steer clear of the debate over U.S. gun laws.
Protesters instead brought it to him, greeting his presidential motorcade with signs showing their displeasure with his visit and his recent calls for stricter gun laws.
A woman holding a sign that said "Please Leave Us in Peace," was among the first of a few hundred people that lined the route used by Obama's motorcade after he arrived in Roseburg. One man's sign read "United We Stand... Obama We Fail!"
After Obama called firearms violence "something we should politicize" following the shooting that killed nine at Umpqua Community College, gun-rights advocates pledged to greet the president with demonstrations. More than 8,000 signed up to attend a rally protesting Obama's visit, according to a Facebook event page titled "Defend Roseburg -- Deny Barack Obama."
Private Meeting
Obama met privately with relatives of the victims at a high school. Afterward, he said he came only to offer condolences and any help the federal government can provide. At some point, he said, the nation must figure out how to stop such tragedies from happening.
"I have some very strong feelings about this," he said outside Roseburg High School, "but today it's about the families."
A 26-year-old gunman on Oct. 1 killed eight students and a teacher at the community college, injuring several others before taking his own life. He had six guns with him and seven more at his home, police said.
Obama has called the failure to enact stricter gun laws one of his biggest frustrations as president. After mass shootings in cities including Aurora, Colorado; Newtown, Connecticut; and Charleston, South Carolina, the president visited grieving family members and made public calls for stricter background checks for firearms purchases.
'Should Politicize'
Congress has repeatedly rejected Obama's proposals.
Hours after the Roseburg shooting, Obama said the nation had fallen into a routine of grieving over mass shootings without acting to stop them.
"What's also routine is that somebody, somewhere will comment and say, 'Obama politicized this issue,'" he said. "Well, this is something we should politicize. It is relevant to our common life together, to the body politic."
Gun-rights advocates seized on those comments, with some in Roseburg urging the president not to visit the timber-producing town of about 20,000, which is about 180 miles (300 kilometers) south of Portland.
'Defend Roseburg'
"We will not let a tragedy be used against the very victims of that tragedy," the "Defend Roseburg" Facebook page states. The event's organizers encouraged participants bringing guns to the rally to opt for handguns rather than rifles.
The mayor of Roseburg and the Douglas County Commission both issued a statements this week saying the president would be welcomed. Some supporters also greeted the presidential motorcade, waving American flags and holding signs that said "Welcome."
County Commission Chairwoman Susan Morgan said Wednesday that local leaders looked forward to Obama's visit "regardless of our differences with the president on policy issues."
After visiting Roseburg, Obama left to attend fundraisers in Seattle, San Francisco and Los Angeles.
Before it's here, it's on the Bloomberg Terminal.
LEARN MORE