Osborne Signals Tax-Dodging Crackdown in U.K. Autumn Statement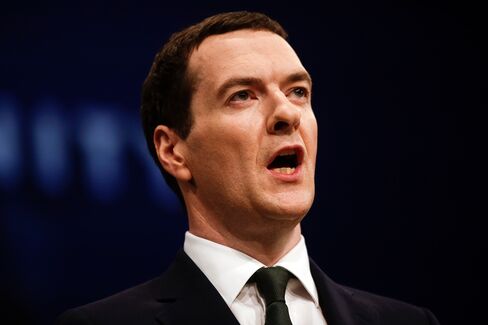 Chancellor of the Exchequer George Osborne suggested he'll announce measures next month to enshrine in U.K. law an international plan to crack down on tax dodging.
Osborne said Friday the so-called base-erosion and profit-shifting plan will be implemented by Britain at the "next fiscal event," indicating it will form part of his Autumn Statement to Parliament on Nov. 25. The BEPS program is a joint initiative by the Organization for Economic Cooperation and Development and the Group of 20 that consists of 15 specific actions to tackle tax avoidance and evasion.
"No one should be in any doubt we will take steps at future fiscal events to introduce" the new rules, Osborne told reporters in Lima during the annual meetings of the International Monetary Fund.
The BEPS action plan received "unanimous support" from the G-20, Turkish Deputy Prime Minister Cevdet Yilmaz announced in Lima on Friday. Britain has already taken steps to meet some of the points, by introducing a levy on diverted profits -- the so-called "Google tax" -- and seeking ways to neutralize hybrid mismatch arrangements, through which different treaties are used to minimize tax on profits.
"We want the U.K. to have a competitive tax system," Osborne told reporters. "But we do want companies to pay their fair share. We have been more than impressed by the progress made internationally to develop the plan."
Osborne has been one of the main backers of the push to crack down on tax avoidance, first set out by the OECD three years ago.
"The test is going to be implementation," Osborne told a G-20 press conference in Lima later Friday. The OECD should hold countries' "feet to the fire" if they don't implement the proposals in full.
Before it's here, it's on the Bloomberg Terminal.
LEARN MORE