Novogratz Ditches Bruce Lee Suit, Lawin Dons Cape at Park Gala
$10 million gift from Citigroup kicks off program at Pier 60

Seth Meyers says Martha Stewart made him a better man
With more than a thousand supporters scrunched into dinner Thursday night at Pier 60, it was going to take something special to command their attention. Friends of Hudson River Park delivered.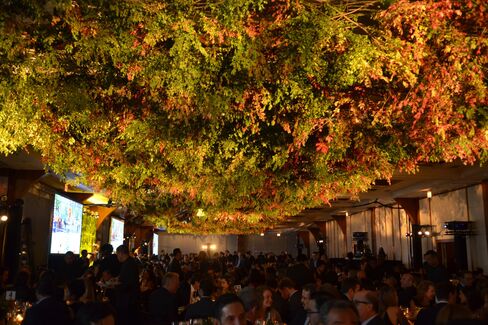 First, Padma Lakshmi, introduced as a former roller skater, clarified that she is still a perfectly good one.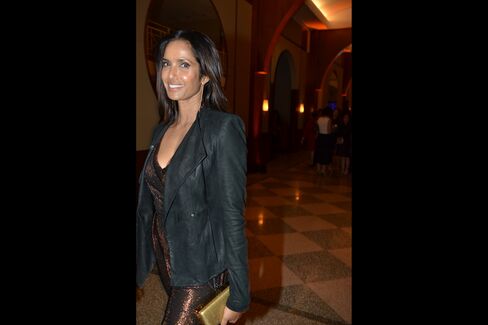 Second, the chief executive officer of the Hudson River Park Trust, Madelyn Wils, announced that Citigroup Inc. is donating $10 million toward the development of Pier 26, across the street from the bank's downtown Manhattan offices. These offices, on Greenwich Street, are being redeveloped to serve as the bank's global headquarters.
The Citigroup table was particularly enthusiastic: "How often does a financial firm give $10 million to a city park?" Ed Skyler, a bank spokesman, said to New Yorkers for Parks Chairman Joel Steinhaus, who also works at the bank.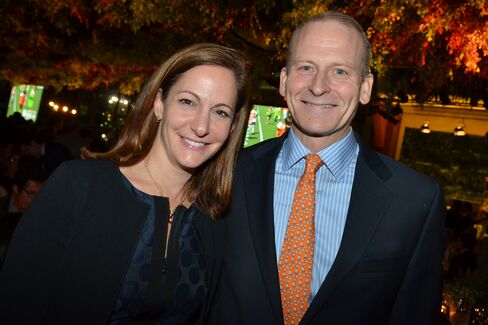 Patrice Altongy, a managing director at Citigroup, said she's in the park seven or eight times a week, running with her son before school and taking both her son and daughter to hockey practice at Chelsea Piers.
Third, Scott Lawin, chief operating officer of Moore Capital Management, came up in a red cape after the screening of a video in which, wearing the same cape, he went flying.
"I've been wanting to do that since I was six years old," Lawin said, accepting his honor. "My kids are going to be pretty jealous."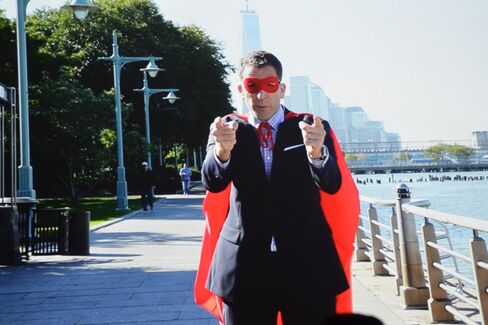 Fourth, Tom Bernstein, one of the developers representing honoree Chelsea Piers, impressed guests in his video, which showed him jumping up to a basketball hoop for a layup.
"How did you do that?" his wife, Andi Bernstein, asked him later. "The hoop was a few feet off the ground," Bernstein said.
Fifth, auctioneer Billy Harris offered two tickets to the Victoria's Secret Fashion Show.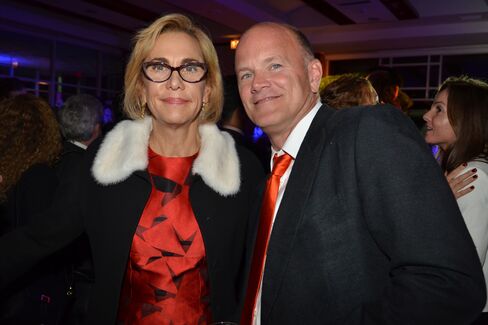 Sixth, Mike Novogratz, chairman of Friends of Hudson River Park, who runs Fortress Investment Group's macro hedge fund, stepped on stage in a conservative suit and tie. This was notable because at last year's benefit, he was sporting a "yellow Bruce Lee suit carrying a torch," he said, to promote the first running of the Hudson River Park Games, at Pier 26. Goldman Sachs Group Inc. won, he said.
This year, Novogratz focused his speech on gratitude. Among the people he thanked were "the dog-walkers, the moms, the dads, the soccer people," as well as Paula Madoff of Goldman Sachs and Rafael Vinoly, the architect.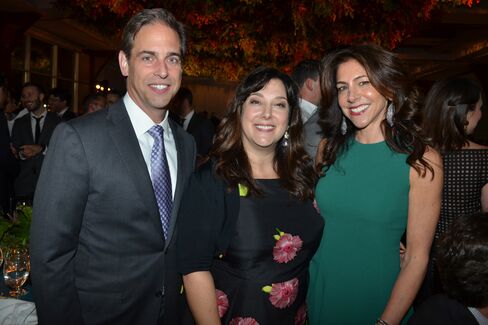 "He has donated his services to help turn Pier 26 into something pretty stinkin' cool," Novogratz said. Among Pier 26's amenities will be a restaurant, City Vineyard, operated by Michael Dorf, and a science education center, which is the part Vinoly is designing.
Seventh, Seth Meyers came up and paid tribute to Martha Stewart.
"Before I met Martha, I was not the man you see before you -- I am not ashamed to say it. I was a street urchin with a soot-covered face," Meyers said. "Martha, she found me in the woods in Bedford, she lured me to her car with an artisanal bowl of free-range pears. I used to think zabaione is what cleaned the ice at hockey games."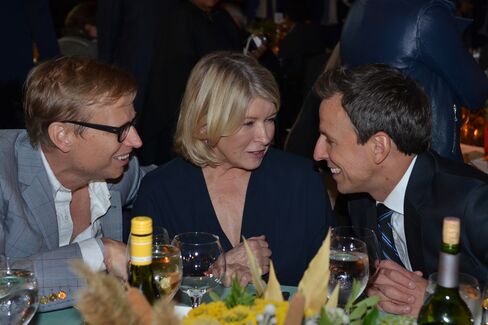 Of her commitment to Hudson River Park, Meyers said that given Stewart's office looks out on it, she just couldn't resist. "You can't landscape a decaying pier without Martha wanting a piece of that," Meyers said. "Every time Martha's in her garden, her only regret is that it's not the size of a decaying pier."
Eighth, Stewart pointed out an illuminating little fact, as she's known to do: the Hudson isn't the longest river in the world, she said, "but for those of us who live and work here in New York, it is our Amazon."
Ninth came the announcement that it was time to move everyone to the adjacent room, dubbed "The Love Shack," where the B-52's closed out the night.
Hudson River Park Trust's chair is Diana Taylor, the companion of Michael Bloomberg, owner of Bloomberg LP.
Before it's here, it's on the Bloomberg Terminal.
LEARN MORE