Man Who Called Aussie Low Says Commodity Currency Rally Has Legs
AMP's Naeimi sees AUD, NZD, CAD, NOK climbing 10% against yen

Raw materials gain as Fed rate-rise expectations pushed back
After correctly predicting Australia's dollar would rally back from a China-fueled slump, Nader Naeimi at AMP Capital Investors is among those betting the worst is over for now for a range of commodity currencies.
The Australian, New Zealand and Canadian dollars, along with Norway's krone, are this month's best-performing major currencies, after they all dropped more than 12 percent in the first nine months of the year against the greenback. Sydney-based Naeimi is wagering the four currencies will climb at least 10 percent versus the yen by year-end as emerging markets and raw materials recover.
"There's strong indication that we've seen the low in most growth assets for now and, in particular, emerging markets and EM and commodity currencies," said Naeimi, the head of dynamic asset allocation at AMP, which oversees about $118 billion. "In a lot of EM countries financial conditions have been tightening because of U.S. dollar strength, so when the dollar eases off that already becomes easing and it also gives those central banks a chance to come out and ease."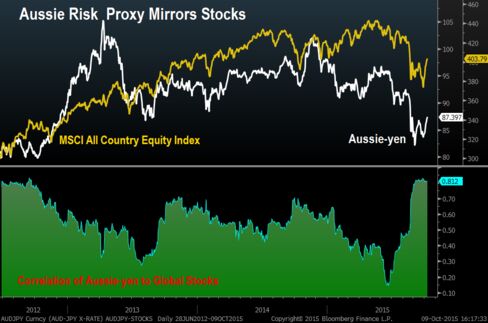 As traders push out the timing of a Federal Reserve tightening and the dollar weakens, central banks in developing nations including India and Taiwan have taken the opportunity to cut interest rates to boost domestic growth. That's helped drive up a Bloomberg index of raw materials almost 4 percent in October and spurred a gauge of developing-nation equities to a 8.5 percent rally. Commodity currencies may also be supported this quarter by expectations China will keep the yuan stable, National Australia Bank Ltd. said.
Dropping Yen Bet
Naeimi has been turning around his investments to be more bullish, dropping a bet the yen would gain versus the pound -- a winner as haven assets climbed -- as he closes out positions that protect against risk aversion. He's positive on commodity currencies against the yen as they have the strongest correlation to equities, while the yen may see additional weakening if Japan's central bank increases monetary stimulus, he said in an interview in Sydney on Thursday.
The Aussie was at 72.92 U.S. cents as of 5:19 p.m. in Sydney, up 3.5 percent this week and heading for its steepest one-week surge since December 2011. Naeimi said in the final week of September that the Australian dollar will gain along with other risk assets as the currency traded near its six-year low of 68.96 that was reached Sept. 7.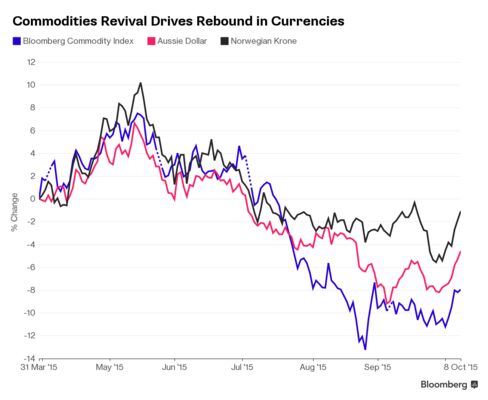 The krone is up 4.9 percent versus the yen since Sept. 30, leading gains among 16 major peers and recouping some of the 10 percent loss it suffered last quarter. New Zealand's dollar has climbed 4.7 percent, the Aussie has risen 4.1 percent and the Canadian dollar is 2.9 percent higher.
The Fed's decision to hold off on raising rates last month and a disappointing September payrolls report appear to have given traders confidence U.S. policy makers won't rush a liftoff. Minutes of their last meeting showed officials put off an increase because of growing risks, mainly from China, to their outlook for economic growth and inflation.
Gradual Tightening
San Francisco Fed President John Williams said Oct. 6 the tightening cycle would be the most gradual in the history of the central bank.
In the weeks following the Fed's decision, Taiwan lowered its policy rate for the first time since 2009 and the Reserve Bank of India cut its benchmark a greater-than-forecast 50 basis points. The Taiwanese dollar and Indian rupee have both gained against the greenback since. A gauge of emerging-market currencies is up 4.5 percent from a record low reached Sept. 28.
"A Fed on hold takes the momentum out of any dollar rally," Jonathan Lewis, a principal at New York-based Samson Capital Advisors, wrote in an e-mailed response to questions. "The rising probability of additional easing, quantitative easing or otherwise, is a shift in outlook that at some point will provide the longer-term basis for a sustained rally in commodity currencies – which frequently act in an anticipatory manner."
Stable Yuan
Part of the recent rally may have been fueled by a view that China will now maintain a stable currency through the year's end and will probably be able to achieve this with reduced interventions as traders shy away from taking on the Chinese central bank, according to National Australia Bank.
An Aug. 11 surprise devaluation of the Chinese yuan spurred a rout in global markets, weakening the currencies of emerging nations and commodity producers amid concern growth in the world's second-largest economy is slumping. China said this week that its foreign-exchange reserves fell by a record last quarter as the central bank sold dollars to support the yuan after the devaluation spurred bearish bets on the currency.
"If CNY is going to be stable, that's a good news story for EM and it's probably a good news story for commodity currencies in general over the next couple of months at least," said Ray Attrill, co-head of currency strategy at National Australia Bank in Sydney.
(An earlier version of this story corrected name spelling in the first deck headline.)
Before it's here, it's on the Bloomberg Terminal.
LEARN MORE