Saudis on Hook for Rebuilding Yemen Just When Money Is Tight
Gulf allies face costly bill in areas they freed from rebels

Failure to restore security, electricity may erode support
One of the main hospitals in Aden has no power, medical supplies, or doctors. At gas stations, people sit in their cars for hours waiting to refill, and tempers flare as armed men try to jump the line.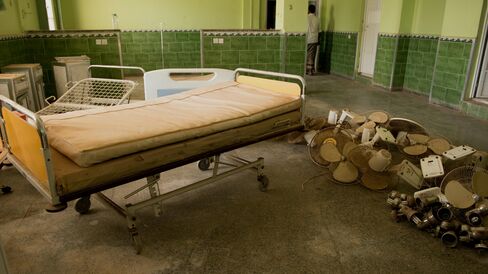 Like most of Yemen, the southern port was already poor and run-down before the current civil war. Now, even restoring it to that level of functioning will be a long and expensive task -- and one that may fall to Saudi Arabia, already under financial pressure from the oil slump.
The Saudis and their ally the United Arab Emirates led a coalition that recaptured Aden in July on behalf of Yemen's government, pushing Shiite Houthi rebels out. Gulf soldiers have been widely greeted as liberators, though they were also the target of a deadly attack on Tuesday. Without a rapid restoration of basic services, any goodwill they enjoy could erode, as it did for the U.S. army in Iraq.
"At this point, Saudi Arabia and the U.A.E. sort of 'own' Yemen, and Yemeni expectations are high," said Emile Hokayem, an analyst for the London-based International Institute for Strategic Studies. Stabilizing government-controlled areas will be "as hard as the military campaign," and failure will "breed resentment," he said.
Saudi Arabia is being dragged deeper into Yemen's conflict, fueling concern that its intervention is turning what had been a predominantly internal war into a broader proxy conflict with regional rival Iran. Saudi officials accuse Iran of backing the Houthi rebels in Yemen, just as it sees Russia's support of Syrian President Bashar al-Assad as furthering Iran's interests in the fight against predominantly Sunni groups in that country.
Hospital Repairs
Rebels still control much of Yemen, defying six months of Saudi-led bombing that has left a growing civilian death toll and humanitarian crisis. Even in Aden, where the coalition enjoyed its first victory, reconstruction has barely begun.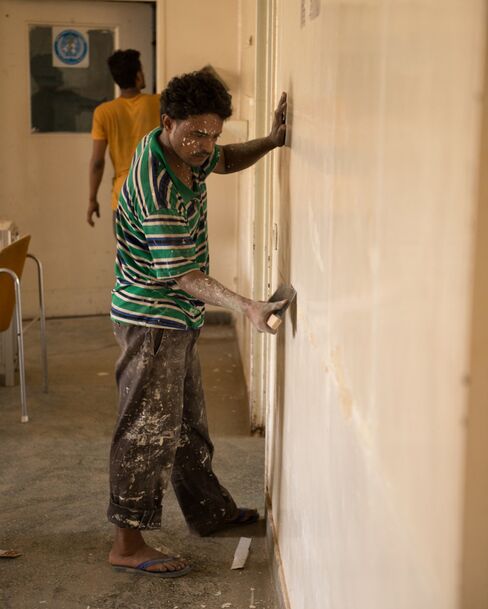 At the Jumhuriya Hospital, built in the 1950s and once named after Britain's Queen Elizabeth II, workers were painting one wing of the facility late last month, the only evidence that repairs were under way. There were still holes in the ceiling from the fighting.
The Saudis and Emiratis will rebuild hospitals and provide beds, while the U.A.E. is also helping to reopen police stations and train traffic police, according to Yemen's internationally recognized administration, which returned from exile in Saudi Arabia when Aden was recaptured.
Its prime minister, Khaled Bahah, says he expects basic services at hospitals destroyed during the war to be operating again within 90 days. But he also acknowledged that "the government has no money" and depends on the coalition.
'Unanticipated Expense'
The Saudis and U.A.E. do have money -- but not as much as they once did: lower oil prices are pushing Gulf budgets into deficit. Saudi Arabia's net foreign assets have dropped 10 percent this year as the kingdom dips into its savings, spurring speculation it may abandon a currency peg to the dollar. The U.A.E. has scrapped fuel subsidies for its citizens and is reviewing other perks.
For these countries, Yemen is an "unanticipated expense," said Graham Griffiths, an analyst at Control Risks in Dubai. "They've committed themselves to seeing the conflict through," and that "limits the room to maneuver they have" to cut spending, he said.
Even if the money is made available, it has to be used effectively. The U.S. spent hundreds of billions of dollars in Iraq after toppling Saddam Hussein in 2003. But the failure to restore security or electricity helped insurgents turn the public against the American military presence.
In Yemen, the Gulf states have advantages the U.S. didn't enjoy in Iraq. They share "language skills and cultural sensitivities" with Yemenis, said Hokayem. On the other hand, they lack "capacity, experience, expertise, and the mechanisms for such an effort," and will need international help, he said.
'Al-Qaeda Is Here'
Mohammed al-Sadi, who helped organize locals fighting to recapture Aden, thinks that there's only a short window of opportunity for the Saudi-backed government to restore basic services before discontent starts to spread. And he's clear about who will benefit if that happens.
"Al-Qaeda is here," al-Sadi said. "If the government doesn't do anything, this could push people to support them."
The jihadists have used Yemen as a base for years, and took advantage of the war to consolidate in the south. Islamic State has also arrived in Yemen, and claimed Tuesday's attack on the government's Aden headquarters, which killed at least 15 people.
There are other militias in the south that have helped the Saudis, and finding a role for them may be crucial for stability.
Chewing Qat
The Aden suburb of Dar Saad, where entire blocks lie in ruins and destroyed tanks sit by the roadsides, is dotted with gunmen sitting at checkpoints. They're often intoxicated on qat, a popular narcotic leaf, by mid-afternoon.
Saleh Mohammed Awad, a wild-haired militia fighter, said he headed to Aden "the day the Houthis arrived" -- along with hundreds of others from his home region.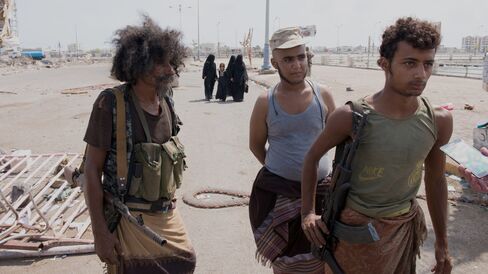 Bahah says such groups can be absorbed into Yemen's army, which has already splintered into pro- and anti-rebel groups.
Much of Aden is trying to return to normal civilian life. Kids play billiards outdoors under the watchful eye of a father with a revolver. Families picnic on Abyan Beach and young men play football on the surf's edge, though the beachfront cafes and children's rides are all gone. Flamingos wade along a waterway beside the coastal road, like apparitions amid the rubble.
At the gas stations, supplies finally arrived late last month, from the Saudi coalition.
Mohammed Kiad, a former pilot for the national carrier Yemenia, said it's a sign that things are getting better now the fighting has stopped. "But there is no organization," he said, pointing to a group of men with guns hanging from their shoulders, squabbling over gasoline. "And everyone is carrying weapons."
Before it's here, it's on the Bloomberg Terminal.
LEARN MORE