Netflix Raises Price of Most Popular Plan by $1 per Month
First affects new customers in U.S., Canada and Latin America

Subscription rate in Europe was boosted in August by one euro
Netflix Inc., the world's dominant paid online video service, is raising the price of its most popular streaming subscription by $1 a month to $9.99 for new customers in the U.S., Canada and parts of Latin America following a similar move in Europe this year.
Existing customers will have a grace period of varying lengths before prices go up for them, the company said on its website. The increase affects the plan that lets two viewers use a subscription at once. Prices for the so-called one-screen and four-screen plans aren't affected.
With more than 65 million subscribers worldwide, Netflix is counting on customer gains and higher prices to sustain revenue growth and finance the cost of its film and TV offerings. The company has $4.3 billion in programming costs over the next year, and almost $5 billion more for the following three years.
"It feels like they are confident in how well they are growing and that they have the consumer love to push the price," Rich Greenfield, an analyst at BTIG LLC who recommends buying the stock, said in an e-mail.
Netflix has said it plans to mostly complete its global expansion by the end of next year. It's added Australia, New Zealand and Japan in 2015 and is now in more than 50 countries. The company will begin selling its streaming service in Spain, Portugal and Italy later this month.
Shares of Netflix rose 6.3 percent to $114.93 at the close in New York, rebounding after dropping as much as 5.1 percent. The stock has more than doubled this year and is the top performer for 2015 in the Standard & Poor's 500 Index.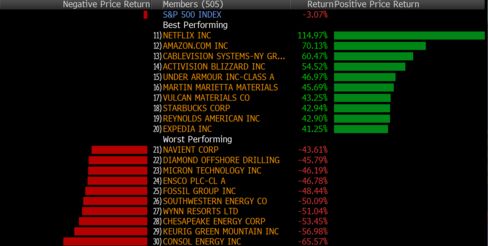 Netflix has raised prices in a gradual manner ever since a disastrous 60 percent increase in 2011, when the company also tried to split its DVD-by-mail and streaming services. Netflix lost 800,000 U.S. subscribers in the quarter in which it instituted the split.
Subsequent increases haven't provoked customers in the same way. The company raised European prices by one euro in August. That followed a 2014 worldwide price hike, the first since 2011. Netflix has softened the blow of these price increases by charging existing customers their lower rate for a year or two.
The increases are needed to cover the cost of licensing shows and funding a growing number of original programs. Netflix will begin carrying new Walt Disney Co.'s movies next year, and has dramatically increased the number of shows it funds and produces.
Before it's here, it's on the Bloomberg Terminal.
LEARN MORE