Filipinos Wary of Losing Gains of Aquino Boom as Election Nears
The Philippines has notched the fastest growth since the 1970s and avoided the emerging-markets meltdown. Can the next president keep the momentum going?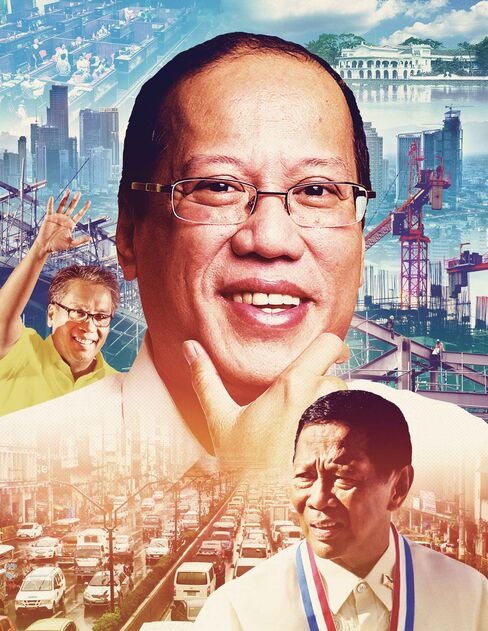 For Kash Salvador, cranes mean money, and these days the coastline of Manila Bay is full of them.
The young property analyst scouts out locales for corporate clients eager to set up shop in the capital of one of Asia's fastest-growing economies.
Salvador, 26, started his real estate career in 2010, about the time Benigno S. Aquino III won a landslide presidential election victory, and he has ridden the Aquino boom. The new president took office pledging to tackle corruption, fight poverty, and wipe out a budget deficit that had dragged on the economy for 21 of the previous 25 years. By 2009, the shortfall was almost 300 billion pesos ($6.4 billion), or 3.9 percent of gross domestic product.
By many measures, Aquino has delivered. Once Asia's "sick man," the Philippines earned World Bank commendation as the continent's "rising tiger" in 2013, three years into his tenure. The nation of 108 million has posted 6.6 percent average annual growth since 2012, its best pace since the 1970s. Aquino has shrunk the deficit too. It stood at 73 billion pesos at the end of 2014, equivalent to 0.6 percent of GDP. In March 2013, Fitch Ratings elevated Philippine debt to investment grade for the first time ever.
Salvador's prospects have risen with the economy. Today, he's a midlevel manager making enough money to get a car loan. His sister is about to finish medical school with his support. "The property industry has benefited from the country's economic resurgence, and I told myself if I worked hard enough, things will happen," he says.

The Philippines hasn't been immune to the funk spreading through emerging markets. The economy grew 5.6 percent in the three months that ended in June, more slowly than analysts had expected. The country might have a hard time reaching Aquino's growth target of at least 7 percent for the year, Economic Planning Secretary Arsenio Balisacan said in August. China's slowdown, gyrating stock markets, and currency devaluations from Kazakhstan to Vietnam add to investor unease. "Despite improved fundamentals and the stamp of assurance from credit-rating agencies, contagion among emerging-markets economies will ensue," says Emilio Neri, an economist at Bank of the Philippine Islands in Manila.
The Philippines has a few things going for it to fight the contagion. So far, the consumption-based economy has made the country more resilient as demand from trading partners has slowed. Steady dollar inflows from Filipinos working overseas mean greater ability to buy imports and pay the nation's debt. And relatively low levels of foreign investment in Philippine bonds and stocks are shielding the country from an intensifying selloff. The Philippine Stock Exchange Index returned 144 percent from July 1, 2010, through Oct. 6, including reinvested dividends. "We can expect economic performance that is still strong, albeit more modest than the government's full-year target," Amando Tetangco, governor of the central bank, said in late August.
The biggest wild card in the Philippines is May's presidential election. Aquino, 55, can't run again because of the nation's six-year term limit. His protégé, former Interior Secretary Mar Roxas, is sparring with Vice President Jejomar Binay over Aquino's record. Candidates will file their intentions to run next week. Roxas, a member of the ruling Liberal Party, has pledged to continue Aquino's anti-poverty, anti-corruption agenda. Roxas announced Oct. 4 that Aquino's party had chosen Leni Robredo, a first-term lawmaker and widow of a former interior secretary, as its candidate for vice president.
Binay's United Nationalist Alliance counters that growth has benefited only a few, and a quarter of Filipinos remain poor. "The lack of inclusive growth despite rapid economic development reflects the administration's emphasis on short-term, Band-Aid solutions," says Eufracia Taylor, Asia analyst at risk-consulting firm Verisk Maplecroft. Senator Grace Poe, an independent who announced her intention to run on Sept. 16, leads in opinion polls, with Roxas second and Binay third in one third-quarter tally. "The elections bring political uncertainty," Salvador says. "You'll never know when investor confidence will fizzle out."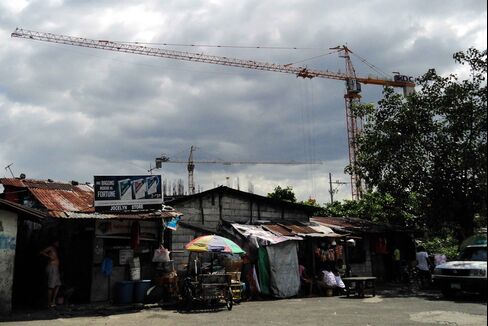 Aquino, the son of pro-democracy politicians, has helped lift a nation weighed down by military rule, widespread corruption, and domination by the landed elite. His mother, Corazon Aquino, led opposition to dictator Ferdinand Marcos after the 1983 assassination of her husband, former senator Benigno Aquino Jr. She went on to become president in 1986. During Aquino III's term, former President Gloria Arroyo and three senators were arrested and imprisoned for graft. They have all denied the charges in court. The trials of Arroyo and two senators are ongoing and one has been suspended.
Aquino has recouped unpaid taxes and used the money to fund roads and schools. Internal revenue collection in 2012 exceeded 1 trillion pesos for the first time, a 14 percent increase from the previous year. Net foreign direct investment reached a high of $6.2 billion last year, almost four times the level in 2010. This year, outflows have increased, however, with overseas investors withdrawing a net $1.24 billion from Philippine shares from April through August, a five-month record.
Salvador's field, property development, is surging. About 2.5 million square meters (27 million square feet) of office space will rise in Metro Manila in the four years through 2018, property adviser Colliers International predicts. More than 33,000 residential units will come to market during that time.
To help rural residents, Aquino has allocated 339 billion pesos for agriculture in the five years through 2015, about as much as the three previous administrations spent in 17 years. Funds for education increased 23 percent in 2013, a sum that let the government eliminate a backlog of 66,800 classrooms and 146,000 teachers.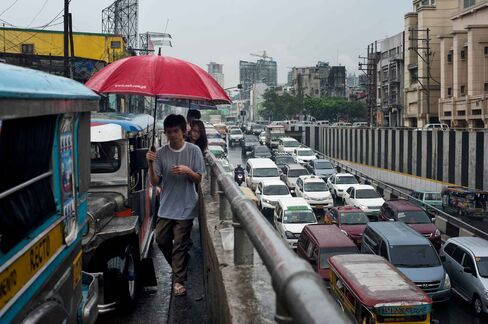 To keep the Philippines growing, the new president will have to tackle Manila's strained infrastructure. During most of the day, the metro area's main highway is a giant parking lot. Commuters endure long lines before elbowing into decrepit elevated trains that often stall. Transit woes cost 876 billion pesos in lost productivity each year, according to the Japan International Cooperation Agency. That sum could more than double to 2.19 trillion pesos by 2030, the JICA says.
Not everyone is happy about Aquino's record on fighting poverty and increasing jobs. While the unemployment rate fell to 6 percent last year, its lowest in a decade, that number obscures a problem with underemployment: 17.8 percent of workers with advanced education degrees work in low-skill areas. Schooled urban workers have benefited from a boom in call centers, but millions of rural poor have yet to see prosperity trickle down. Aquino counters by saying his support for the poor will take time to yield results.
Aquino's government has also failed to stem the migration of Filipinos overseas, says Fernando Aldaba, dean of Ateneo de Manila University's School of Social Sciences. "Aquino's successor must continue the resurgence of the manufacturing sector and revive agriculture while crafting a better anti-poverty strategy," he says.
Salvador, for his part, knows the prosperity he's enjoyed under Aquino could evaporate under his successor—whoever that is: "We're a developing country, and it's easy to backtrack if we don't have a good leader."
This story appears in the November 2015 issue of Bloomberg Markets. With assistance from Siegfrid Alegado and Clarissa Batino.
Before it's here, it's on the Bloomberg Terminal.
LEARN MORE