Deutsche Bank Looming Bonus Hit Seen Sparking Senior Departures
Bank may lose top bankers to competition amid merger boom

Pay decisions yet to be made, Cryan tells staff in memo
Deutsche Bank AG co-Chief Executive Officer John Cryan indicated that an unexpected third-quarter loss of about 6.2 billion euros ($7 billion) will probably hurt bonuses, in a further blow to the shrinking securities unit as the lender weighs thousands of job cuts.
"While compensation considerations are not based on this year's financial results alone, our shareholders will rightly expect employees to share something of the burden," Cryan, 54, said in a memo to staff on Wednesday. "Having said that, you have my personal commitment to try to achieve a fair balance between staff and shareholder interests."
Germany's largest bank may struggle to retain senior investment bankers as rival U.S. firms seek employees to grow their mergers and acquisitions franchise amid a boom in deal-making. Cryan, who previously helped UBS Group AG shrink its securities unit after a bailout, has signaled he's seeking ways to make deeper cuts at the investment bank, amid a string of probes including a record $2.5 billion fine over Libor earlier this year.
'Competitive Bind'
"This puts them in a really competitive bind, because the Morgan Stanleys, the Goldman Sachses, they'll be picking up the phone and dialing those bankers today, the ones that they know can bring in the deals," Anne Richards, chief investment officer at Aberdeen Asset Management Plc, said in an interview on Bloomberg Television on Thursday. "It puts them in a very difficult competitive situation."
The bank is already considering cutting 8,000 jobs, in addition to those to be eliminated through the sale of one of its consumer bank units, and will make a final decision this month, a person with knowledge of the matter said last month. Deutsche Bank announced plans in April to divest Bonn-based Deutsche Postbank AG, which employs about 15,000, through a trade sale or by issuing shares to the public.
The shares rose 2.4 percent to 26.08 euros at 10:16 a.m. in Frankfurt after dropping as much as 3.6 percent in earlier trading. They are up about 4.3 percent this year after decreasing 24 percent in 2014.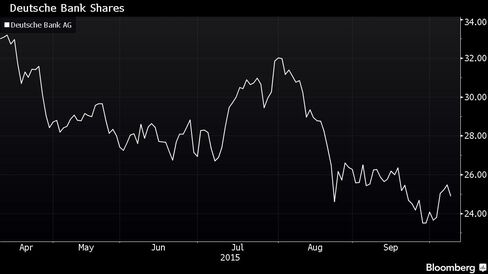 Deutsche Bank said in a statement late Wednesday that expects to book a 5.8 billion-euro writedown as tougher capital requirements reduce the value of its investment bank, sparking the largest quarterly loss in at least a decade. The company said it may also scrap its dividend for the year.
This announcement means "don't expect anything," said Jason Kennedy, the head of recruitment firm Kennedy Group in London. "Your job is the bonus for now."
Deutsche Bank's global head of mergers and acquisitions, Henrik Aslaksen has already left the bank, people familiar have said. The firm's head of equities trading, Andre Crawford-Brunt, is also leaving after more than 20 years, a separate person said.
The lender has also said it will also close its Russian banking and securities businesses as Cryan presses ahead with a plan to exit some countries and as Deutsche Bank grapples with a probe into alleged money laundering at its Moscow office.
Thiam, McFarlane
Deutsche Bank is not alone in its efforts to cut costs. Tidjane Thiam, the new CEO of Credit Suisse Group AG, said in July he would make the business "less capital intensive and ensure we generate excess capital." At Barclays Plc, Chairman John McFarlane told staff in a memo last month that he will have to make some "tough calls" in the coming weeks to help boost returns and accelerate earnings growth.
Writedowns and the prospect of scrapping the lender's dividend will "have to be factored in some way" into decisions on variable compensation for the year, Cryan told staff in the memo. He noted that, on his first day in the job in July, he had cautioned that not all would be "sweetness and light" in the coming months.
Bonus Drop
In 2014, Deutsche Bank increased salaries at its investment bank, home to its best-paid employees, by 17 percent to 2.77 billion euros from a year earlier, while bonuses at the division dropped 20 percent to 1.7 billion euros.
Deutsche Bank has slipped to eighth in managing stock sales globally from sixth last year, data compiled by Bloomberg show. It's also down to ninth from eighth in advising on mergers, with dealmaking activity globally on track to pass $3 trillion this year.
In his memo to staff, Cryan said that he will provide a strategy update at the end of the month.
"It's easy to jump to conclusions that Cryan's comments are one way of subtly highlighting that bonuses will be impacted for 2015," said Hakan Enver, operations director at recruitment firm Morgan McKinley Financial Services in London. "Whether this means top talent will look to leave is too early to tell. Clearly economic conditions and recent scandals have taken its toll."
Before it's here, it's on the Bloomberg Terminal.
LEARN MORE