Corbyn Backers Set Up U.K. Labour Movement, Surprising Officials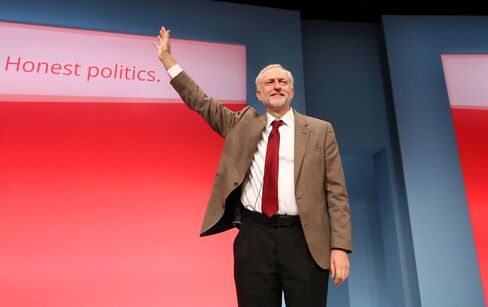 Backers of U.K. opposition leader Jeremy Corbyn set up a new pressure group within his Labour Party to promote his socialist agenda, taking officials at party headquarters by surprise.
The campaign that organized Corbyn's successful bid for the Labour leadership said Thursday it's transforming itself into Momentum, a "mass movement for real progressive change" aimed at turning Labour into "a more democratic party." While Momentum's creation was endorsed by Corbyn and his Treasury spokesman and closest ally, John McDonnell, it came as a surprise to Labour staff in London who weren't told about it in advance, according to two officials who asked not to be identified.
"We need to unite and continue to build our movement to change our politics," Corbyn said in an e-mailed statement announcing the group's establishment. "To do this, we need to keep up the momentum we have built over the last four months."
Labour headquarters referred queries about the new movement to Corbyn's office, which said in a statement Momentum is independent of him and simply another group within the Labour Party.
Corbyn overwhelmingly won Labour's leadership election last month with the aid of tens of thousands of new party members and supporters but the backing of less than 10 percent of its lawmakers. At last week's party conference, he found himself criticized in public by six senior members of his new shadow cabinet over a statement that he'd never be prepared to use nuclear weapons as a last line of defense if he became prime minister.
While Momentum describes itself as independent of Corbyn, it will encourage supporters to back his policies inside the Labour Party. Those policies include the renationalization of Britain's rail network and an anti-austerity economic agenda as well as the abandonment of the nuclear deterrent.
"We need the campaign's momentum to continue to transform our democracy and our way of doing politics," McDonnell said in the Momentum statement. "We are part of this wider social movement, running an economy in the interests of all."
Before it's here, it's on the Bloomberg Terminal.
LEARN MORE