Brawl Over Beef-Eating Party Shows India Divide Before Vote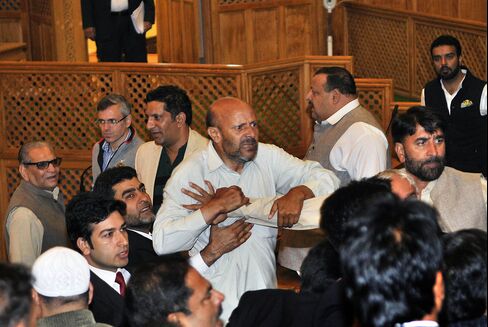 Rising conflict over beef splits India's religious groups

Modi references dispute in campaign for Bihar state election
Abdul Rashid Sheik has a reputation for prodding Hindu lawmakers in India's only Muslim-majority state. Yet even he didn't expect to get attacked for making a speech.
On the floor of Jammu & Kashmir's legislative assembly on Thursday morning, Sheik declared that he had held a beef-eating party earlier this week to demonstrate his religious freedom in Hindu-dominant India. To underline the point, he vowed to host 1,000 more.
Within seconds, about a dozen members of Prime Minister Narendra Modi's ruling Bharatiya Janata Party who believe that cows are sacred pounced on the 46-year-old Muslim lawmaker. Sheik said he was slapped in the face with shoes, kicked in the head and had his throat grabbed before security pulled him to safety.
"They're fighting to communalize the atmosphere in this country just to gain votes," Sheik, who isn't affiliated with a party, said by phone of the BJP about two hours after the scuffle. "If they are doing this is Kashmir, the biggest Muslim state, imagine what they have planned for the rest of India."
The melee is the latest in a number of beef-related clashes in India that are escalating tensions between Hindus and Muslims before voting starts on Monday in the key state of Bihar. The issue surfaced in campaigning after a mob outside of Delhi last month lynched a Muslim man whom they accused of killing a cow and keeping beef in his refrigerator.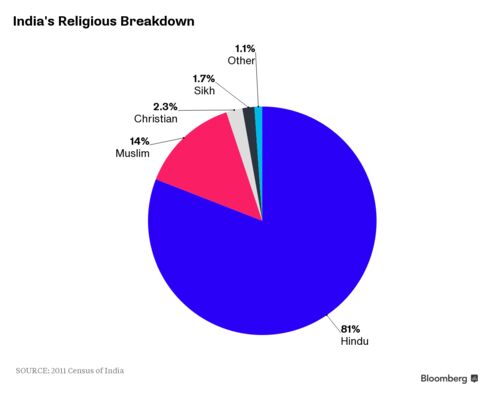 Modi needs a victory in Bihar to help further his goal of controlling the upper house of the national parliament and passing stalled economic proposals. Although appeals to the BJP's Hindu base are often used to rally voters, the prime minister's opponents have seized on religious issues to justify blocking his reform agenda in parliament.
A debate over forced religious conversions brought parliament to a halt last year, preventing the passage of key bills such as a goods-and-services tax. Indian opposition parties have continued to block votes on legislation in the upper house this year. The next parliamentary session starts in November.
While India is the fastest-growing major economy, its stocks and currency have fallen along with other emerging markets as optimism fades over Modi's ability to push through wide-ranging reforms. A surge in religious tension risks setting him back further, said SL Rao, former chairman of the Institute for Social and Economic Change in Bengaluru, the city previously known as Bangalore.
"All this development the prime minister talks about means nothing if all this is going to go on," Rao said. "The prime minister should wake up and stop it immediately."
Beef Insult
At a campaign rally in Bihar on Thursday, Modi referred to the growing conflict for the first time. He said one of his main political opponents, Lalu Prasad Yadav, insulted the state's Hindus by claiming that some of them eat beef.
"Lalu rose to power because of the support of his community, and now he's insulted them with these claims about what they eat," Modi said to cheering supporters.
Nitish Kumar, Bihar's leader and an ally of Lalu, accused Modi of seeking to stir up religious tensions with the remark.
Later in the day, Modi directly called for communal harmony. "The country has to stay united," the prime minister said, according to Press Trust of India. He urged people to ignore "irresponsible" comments from politicians made to further their interests, according to PTI.
Nirmal Singh, the BJP's top leader in Jammu & Kashmir, apologized for the altercation in the assembly after being asked to do so by the state's Chief Minister Mufti Mohammad Sayeed, the Indian Express reported on Oct. 9.
Religious Killings
Communal tensions have divided India over its 68-year history. The mass migration of more than 10 million Hindus and Muslims during the partition of India and Pakistan in 1947 resulted in clashes that left hundreds of thousands dead.
Reliable figures on incidents are unavailable. The Times of India, citing Home Ministry data, reported in July that deaths due to religious strife jumped 65 percent in the first five months of 2015 from a year earlier. A member of Modi's cabinet told lawmakers in July that religious clashes declined by about 20 percent in 2014.
In Jammu & Kashmir, Modi's party formed a coalition to share power in the state for the first time after elections last year.
Ravinder Raina, a BJP lawmaker in the state, told reporters on Thursday that Sheik -- the beef-eating Muslim politician -- had "hurt our religious sentiment."
"If he mentioned about a cow beef party, we don't tolerate this," Raina said in televised remarks. "We will tell you that if he organizes 1,000 parties, we will thrash 1,000 times."
Sheik in turn accused Modi's party of bullying and said life was becoming more dangerous for non-Hindus in India.
"The bigger picture is what's happening around the rest of the country to Hinduize," Sheik said. "The development agenda has not worked, so they are turning to this for votes and support."
Before it's here, it's on the Bloomberg Terminal.
LEARN MORE