Gap CEO Blames Women's Clothing Woes for Banana Republic Slump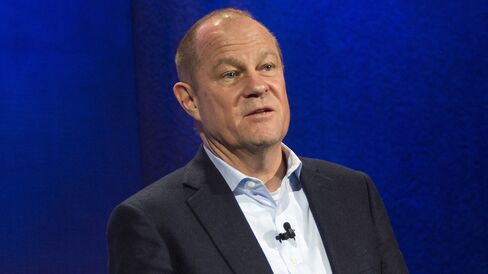 Gap Inc. Chief Executive Officer Art Peck blamed poor-fitting women's clothing for a lingering slump at the retailer's Banana Republic chain, which just posted another month of plunging sales.
Banana Republic's same-store sales -- a closely watched measure -- tumbled 10 percent in September, the San Francisco-based company said on Thursday. That was far worse than the 5.6 percent drop predicted by Retail Metrics and marked the seventh decline in eight months.
"I've been disappointed in the women's product in Banana Republic," Peck said in an interview. Customers are "being clear that it doesn't fit well. It's not as versatile or flattering as it should be given the price point."
Gap also said on Thursday that Banana Republic's creative director will step down from her day-to-day role at the chain. Marissa Webb, who took the job in April 2014, will focus more on her personal label. The retailer hired Webb, formerly at J. Crew, to help restore Banana Republic's fashion credibility.
Gap shares fell as much as 7.6 percent to $26.75 in New York on Friday. The shares had already slid 31 percent this year through the close of trading Thursday.
Peck has been reshuffling the retailer's leadership since taking the helm in February, including naming new brand presidents at the Gap and Banana Republic chains. His comeback effort was dealt a blow last week, when Old Navy Global Brand President Stefan Larsson was lured away to become CEO of Ralph Lauren Corp. Jill Stanton will take over as interim head of Old Navy, which has been Gap's best-performing brand recently.
Peck said he expects to see improvement in Banana Republic's product in the spring, the same time frame as the turnaround planned for the Gap chain.
Same-store sales at the Gap brand were unchanged in September from a year earlier. That was better than the 6.2 decline analysts had predicted. Sales at Old Navy, meanwhile, grew 4 percent, missing estimates for a 5.6 percent gain.
Before it's here, it's on the Bloomberg Terminal.
LEARN MORE