Global Stocks Post Best Week Since 2011 as Commodities Rally
Zinc soars with copper as U.S. oil climbs toward $50 a barrel

S&P 500 ekes out gain to cap best week of year, dollar weakens
Global stocks, commodities and emerging-market currencies delivered their best weeks in years, extending a rally that's added about $2.5 trillion to equities as central banks show no desire to pull back on stimulus anytime soon.
The MSCI All-Country World Index capped its best weekly rally since 2011. The Standard & Poor's 500 Index's advance in the five days was its best of the year, leaving it at the highest since Aug. 20. Oil in New York ended near $50 a barrel and zinc had the steepest daily jump on record as commodities extended a rally. The Bloomberg Dollar Spot Index slipped for the sixth time in seven days.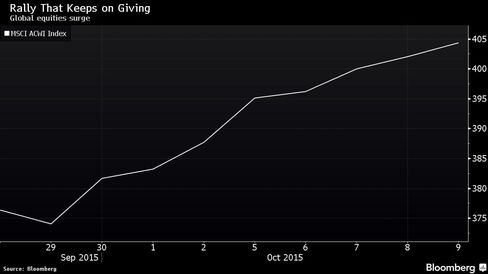 "Policy makers are trying to be prudent with policy, but not panicking over the global outlook," said Brian Jacobsen, who helps oversee $250 billion as chief portfolio strategist at Wells Fargo Advantage Funds in Menomonee Falls, Wisconsin. "We'll see whether or not we can hold above 2,000 in the S&P 500 and build from here ahead of earnings."
Global stocks have been staging a comeback in the wake of their worst quarter since 2011 as signs of an uneven recovery in the U.S. job market and data signaling slowing growth from China to Germany heighten speculation the Fed won't raise interest rates until next year. Alcoa Inc. fell Friday after posting earnings that missed analysts' earnings.
Minutes from the Fed's September meeting released Thursday kept bets for higher rates pushed into next year. That weighed on the dollar and boosted energy, raw-material and industrial companies amid expectations that a weaker U.S. currency will lift profits. Atlanta Fed President Dennis Lockhart said Friday he still anticipates raising rates this year.
Stocks
The S&P 500 rose 0.1 percent to 2,014.96 at 4 p.m. in New York, advancing for the eighth time in nine days. The gauge rallied 3.3 percent in the week, for its best effort of the year. The index has rebounded 7.9 percent from its August low and is now 5.4 percent from its all-time high set in May.
Miners and energy companies have led the rally this week, though oil and gas companies retreated 0.7 percent Friday to halt an eight-day winning streak. Alcoa slipped 6.8 percent, while Gap Inc. sank 5.3 percent after reporting sales at one of its brands tumbled last month.
The MSCI global benchmark advanced 0.7 percent, pushing its gain this week to 4.4 percent. The Stoxx 600 surged 4.3 percent in the week, the most since July. European miners rallied 19 percent, the most since 2009, led by Glencore Plc, which said Friday it will cut output of zinc by about a third.
Emerging Markets
A Bloomberg gauge of emerging-market currencies rose for a sixth day. The rupiah, Russia's ruble and the ringgit were the best performers among developing-nation currencies this week, with gains of more than 6 percent against the dollar. The Indonesian currency rose 3.5 percent on Friday, with the ringgit up 2.6 percent.
The MSCI Emerging Markets Index climbed 1.4 percent on Friday, extending its weekly advance to 7 percent. Global funds pumped a net $1.2 billion into shares in Brazil, India, Indonesia, South Korea, Taiwan and Thailand.
Commodities
The Bloomberg Commodity Index advanced 0.7 percent Friday to cap a 3.6 percent gain in the week that was its best since 2012. Oil capped the biggest weekly gain since August and options contracts showed bearish sentiment abating amid speculation that rising consumption and retreating supply will reduce the global surplus.
West Texas Intermediate climbed 9 percent this week and settled at $49.63 a barrel. It poked above $50 a barrel on Thursday for the first time since July. Brent crude settled at $52.65 a barrel.
Zinc for three-month delivery jumped 10 percent to settle at $1,836 a pound in London. The metal climbed as much as 12 percent in its biggest surge since at least 1989. Copper, aluminum, nickel and lead all rose more than 3 percent.
Currencies
The dollar fell to a three-week low versus the euro as Fed officials acknowledged volatility in global markets while backing an interest-rate increase by year-end. The Bloomberg Dollar Spot Index, which measures the greenback's performance against a basket of 10 major counterparts, fell 1.4 percent this week, the most since June.
The dollar lost 0.7 percent to $1.1358 per euro as of 3:13 p.m. New York time, reaching its weakest since Sept. 18. The U.S. currency gained 0.3 percent to 120.27 yen.
Australia's dollar capped its best week since December 2011 versus the dollar, while the Norwegian krone, South African rand and New Zealand dollar all climbed at least 3.5 percent this week amid a rebound in commodity prices.
Bonds
Treasury 10-year note yields were little changed at 2.10 percent, for a weekly increase of 11 basis points. Analysts surveyed by Bloomberg don't see 10-year note yields rising above 3 percent until the first quarter of 2017, compared with an April forecast that saw the yield climbing to 3.22 percent by the end of 2016.
Before it's here, it's on the Bloomberg Terminal.
LEARN MORE