VIX August Blackout Tied to Weekly Options in Barclays Research
Proliferation of options on the S&P 500 may have contributed

The volatility gauge went dark for 30 minutes on Aug. 24
The 30-minute outage in the Chicago Board Options Exchange Volatility Index on Aug. 24 may have been the result of changes in the way the measure is put together.
That's the view of Maneesh S. Deshpande, a strategist at Barclays Plc in New York who wrote that the addition of weekly options to the soup of derivatives on which the index is based probably played a role in the VIX travails that day. For half an hour on Aug. 24 the VIX flatlined as equities plunged more than 5 percent.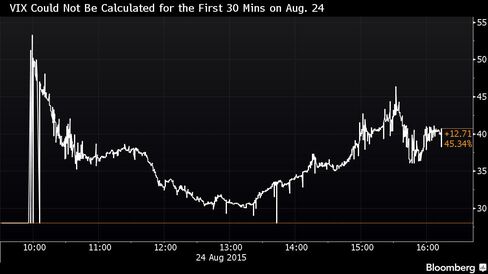 The VIX is world famous as a proxy for stress in the American equity market. It's derived from options prices on the Standard & Poor's 500 Index. As nervousness increases in stocks, dealers charge more for options that speculate on swings -- and the VIX goes up.
Trading in options that feed into the VIX was too disjointed to calculate a value until about 10 a.m. on Aug. 24, a spokeswoman, Suzanne Cosgrove, told Bloomberg News that morning.
Deshpande's view is that the proliferation of contracts tied to the S&P 500 -- to 10,000 now from about 2,000 two years ago -- has heightened the possibility of misadventure when markets are in freefall. Not all of those options, including ones that were added in a recent revamp of the VIX methodology, trade with the same liquidity, he wrote. He focused on those with weekly expirations, launched a year ago.
"Updating the quotes for all these option contracts during a fast moving market is likely to be challenging," Deshpande wrote. "We suspect that market makers focused on the more liquid regular expirations, which caused liquidity to dry up in the weekly options."
Some analysts and traders have said the VIX's ride that morning was made wilder by exchange-traded notes and funds that buy VIX futures to keep up with demand for volatility hedging. Shares outstanding in notes overseen by iPath, such as their S&P 500 VIX Short-Term Futures ETN and two others, reached a record on Aug. 28 as $1.5 billion of fresh cash flowed into the products this year.
"Yes, we have a lot more series out there now, but through all the discussions we've had with market makers, no one raised the issue that they have too many series to quote," said Bill Speth, vice president of research at CBOE. "There's no denying that we couldn't calculate a value, but the system still works."
Before it's here, it's on the Bloomberg Terminal.
LEARN MORE