Global stocks rose for a sixth day, the best run since the end of April. In that period the MSCI AC World Index has jumped 6.5 percent, the most in almost four years, on expectation central banks across the world will keep monetary policy loose to combat faltering economic growth. The gains come after the worst fourth quarter in four years.
Asian and emerging market stocks also rose for a sixth day, their longest stretch in almost half a year. European stocks gained for a fourth day.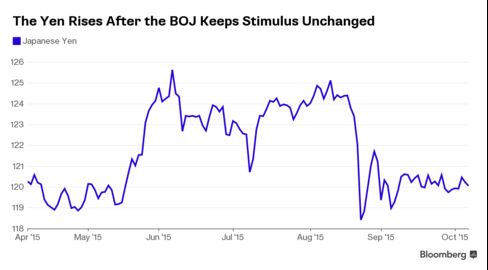 The Bank of Japan chose not to add to its record stimulus, yet it's only a matter of time before it is forced into action by negative inflation and an economy teetering on the brink of recession. That's the view of almost two-thirds of economists who expect the BoJ to boost asset purchases when it next gathers on Oct. 30, a meeting when the central bank will update its outlook for inflation and economic growth. The yen is gaining on the news. The U.S. dollar dropped 2 percent against the yen last quarter, its worst performance in three years, as investors sought safety in the Japanese currency after China devalued the yuan and uncertainty prevailed about the path of U.S. interest rates.
Crude oil is rising for a fourth day, the longest winning run since April, stretching its gains to 10 percent since last Friday. The last time oil was this high was July 21. Since then it hasn't closed above $50 a barrel. Industry figures showing crude stockpiles fell in the U.S. prompted the latest move, ahead of government data later which may reveal nationwide supplies gained 2.25 million barrels last week. Oil also got a boost from the Energy Information Administration, which increased its forecast for 2015 global oil demand in its monthly report. Crude has rebounded 30 percent since falling to a six-year low in August. Still, it's sunk 44 percent in the past twelve months.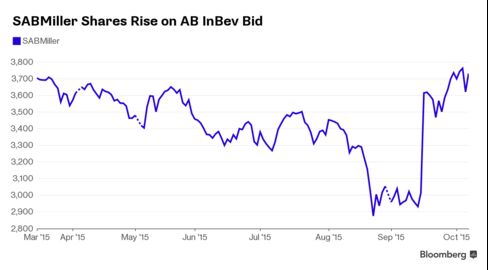 AB Inbev launched a formal bid for SABMiller after two earlier private proposals were rejected. The offer on the table is £42.15 per share, in cash - a 44 percent premium to SABMiller's stock on Sept. 14, the day before speculation broke about a deal. That amounts to about £68.2 billion ($104 billion). A combination of the world's two largest brewers would be the biggest deal of 2015 and the fourth-largest takeover ever. SABMiller shares rose as much as 3.5 percent at the open, trading below the offer price, suggesting doubts the deal will be completed.
Mark Barton is a presenter on Bloomberg TV. Follow him on Twitter @markbartontv
Before it's here, it's on the Bloomberg Terminal.
LEARN MORE