City of Kiev Passes Moratorium as Debt Talks Said to Falter
Ukraine's capital halts payments on $550 million of Eurobonds

Kiev's `intensive' talks with creditors said to have ended
The City of Kiev imposed a moratorium on foreign-debt payments before a bond matures next month as a round of negotiations with creditors was said to have ended without an agreement.
City officials stopped payments on the capital's Eurobonds as of Nov. 6, including a $250 million note falling due that day and $300 million maturing July 2016. Kiev is seeking to continue negotiations after two weeks of intensive talks between the city and a committee of creditors halted, according to a person familiar with the negotiations.
Kiev is looking to cut its debt burden as the country seeks to overhaul its debt to meet terms on a $17.5 billion International Monetary Fund loan needed to revive the economy battered by a conflict with pro-Russian separatists. Ukraine's Finance Ministry threatened to halt payments on sovereign debt before reaching an agreement with a Franklin Templeton-led creditor group in August.
"We saw a similar approach initially from the Ministry of Finance," Tim Ash, the head of Europe, Middle East and Africa emerging-markets credit strategy at Nomura Holdings Inc. in London, said Thursday in e-mailed comments. "Talk tough, then cut a very generous deal to bondholders."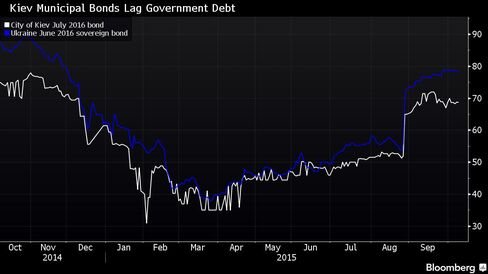 Kiev's dollar-denominated bond maturing July 2016 fell 0.2 cent to 68.63 cents on the dollar by 3:22 p.m. in Kiev, compared with 78.53 cents on the dollar for Ukraine's $1.25 billion note due June next year.
"Kiev bondholders will probably get similar conditions to what the sovereign creditors got in the end, even if there's always a probability of something going wrong in the process," said Vitaliy Sivach, a bond trader at Investment Capital Ukraine. "There's a small chance the city could go into outright default, so the market is pricing that risk."
The agreement between Ukraine and its creditor group included writing down 20 percent in the face value of sovereign bonds, extending maturities and issuing warrants with payments tied to the country's economic performance. Holders of the sovereign notes are scheduled to vote on terms of the deal next week. Ukraine called a moratorium on some notes last month, including a $500 million bond due Sept. 23, to be able to be able to keep the note in its debt restructuring.
Worse Terms
Any deal on the city's bonds will most likely have to be a bit worse for creditors than the one for sovereign notes because of Kiev's debt quality, according to the person, who asked not to be identified as the discussions are private. Kiev imposed the moratorium before the city council recesses for municipal elections on Oct. 25, the person said. The city's debt isn't backed by the state nor is it linked to sovereign notes by so-called cross-default clauses, the person said.
Ukraine's Finance Minister Natalie Jaresko told investors in New York on Tuesday that the municipal restructuring will be "comparable in its terms but it will not be identical" to the sovereign deal.
Investors in $2.8 billion in bonds from two of the nation's three largest banks approved extending maturities, without assuming a reduction to face value, in the first reprofiling of the country's debt earlier this year.
Before it's here, it's on the Bloomberg Terminal.
LEARN MORE