Central bank is looking past current impact of oil on CPI

Private economists say watch Oct. 30 for a possible change
The Bank of Japan kept its record stimulus unchanged on Wednesday amid growing speculation that signs of a recession will press it to act at the end of the month.
The immediate focus now turns to Governor Haruhiko Kuroda's press conference this afternoon for any hints of an adjustment in monetary policy on Oct. 30, when the central bank will provide an update on its outlook for inflation and economic growth.
The BOJ's key price gauge fell in August, along with industrial production, raising concern that Japan may have fallen back into a recession in the third quarter. While more than a third of economists surveyed by Bloomberg think Kuroda may be able to avoid increasing stimulus altogether, a larger number expect him to boost asset purchases at the next meeting of his policy board.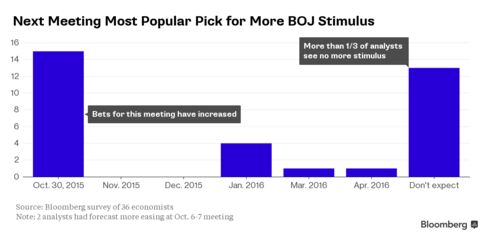 "I see a very good chance for the BOJ to ease later this month. It's wrong to think the BOJ is not close to easing from today's statement," said Kyohei Morita, chief economist at Barclays Plc. "It's not they are keeping their view but it's more like they want to see more data before making any change."
The yen strengthened 0.1 percent against the dollar to 120.12 at 2:36 p.m. in Tokyo. The BOJ's expansive monetary policy has pushed the Japanese currency down 23 percent since April 2013. The Topix index of stocks was up 1.3 percent.
The weak yen has been hurting low-income households in Japan, said Liberal Democratic Party lawmaker Kozo Yamamoto, who has advised Prime Minister Shinzo Abe on economic policy. Yamamoto, who said policy makers may be worried that any further stimulus by the central bank would weaken the currency even more, cited consumption as the nation's biggest problem.
Thirty-four of 36 economists surveyed correctly forecast the central bank would leave its policy unchanged Wednesday to keep increasing the monetary base at an annual pace of 80 trillion yen ($660 billion).
Kuroda said last week that he thought it was hard to see the economy contracting in the three months ended September, and that the inflation trend was showing improvement, helped by high corporate profits and the tight labor market. He also added that he wouldn't hesitate to adjust policy if needed.
Kazuhiko Ogata, an economist at Credit Agricole SA, said Kuroda can move swiftly when he thinks action is required.
Won't Hesitate
While leaving quantitative and qualitative policy unchanged, the BOJ made minor adjustments to collateral requirements for financial institutions seeking funds through various central bank lending programs. Such changes have been made at the BOJ's first October meeting for the last several years.
Pressure is also on Abe's government to consider assembling a fiscal stimulus package. Heizo Takenaka, an economic adviser to Abe, is among those who have suggested the need for extra spending.
Inflation excluding fresh food and energy rose 1.1 percent in August, while the measure that strips out only fresh food dropped 0.1 percent, falling below zero for the first time since Kuroda began the unprecedented easing in April 2013.
Production fell 0.5 percent from a month earlier in August, following weaker-than-expected export data as China's slowdown took its toll.
Before it's here, it's on the Bloomberg Terminal.
LEARN MORE