U.S. Stocks Fuel Global Rally as Oil Tops $50; Fed Sinks Dollar
Fed minutes showed officials wanted to wait for more data

World equity index on track for its best week since 2012
U.S. stocks climbed as crude oil topped $50 a barrel for the first time since July, while the dollar fell after minutes from the Federal Reserve's latest meeting indicated the central bank won't be in a hurry to remove stimulus.
The Bloomberg Dollar Spot Index slipped to a three-week low on prospects the Fed will keep rates lower for longer. The Standard & Poor's 500 Index closed above 2,000 for the first time since the middle of the August selloff, helping the MSCI All Country World Index extend its longest rally since April. The gauge of global stocks is on track for its best week in almost three years. Crude oil continued its rally, while Treasuries declined.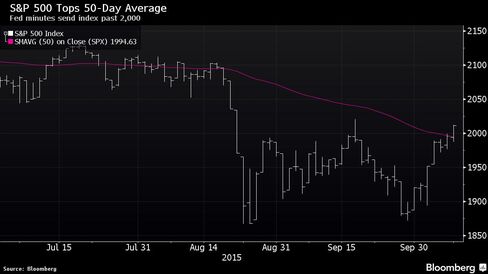 While Fed officials noted the U.S. economy continued to improve, the committee decided to wait for additional data confirming the outlook for growth. The central bank had cited market turmoil and the threat of weakness abroad for keeping rates near zero. Speculation policy makers won't tighten this year has torpedoed the greenback and driven demand for risk assets such as oil and emerging-market equities.
"They rehashed that people are waiting for clarity on the outlook of the economy," said Stephen Carl, principal and head equity trader at Williams Capital Group LP. "Investors are potentially looking at it as dovish, like more time is being bought by the Fed."
Stocks
The MSCI All-Country World Index rose 0.6 percent by 4 p.m. in New York, for a seventh day of gains. The gauge, which includes both developed and emerging markets, has climbed 3.7 percent this week, the most since November 2012. The Standard & Poor's 500 Index added 0.9 percent to 2,013.43 Thursday, the highest level since Aug. 20. It's rallied 7 percent since Sept. 28.
Energy and materials producers led Thursday's S&P 500 advance, with each group capping an eighth straight daily gain. Health-care shares in the index erased a loss of 1.5 percent to close with an increase of 0.4 percent.
"The market's resiliency near the highs over last few days help set it up for this kind of initial response," said Frank Cappelleri, a market technician at Instinet LLC in New York. "It got the same kind of pop after the news was announced, but it didn't make for any upside follow through. A lot of people will be looking to see if we can hold things better this time around."
The latest equities advance came after stocks suffered their worst quarter in four years, with the selloff sparked by China's shock devaluation of its currency. The S&P 500 ended yesterday within five points of 2,000, a level that also halted previous attempts to rebound from its first correction since 2011.
Alcoa Inc. kicked off the earnings season after Thursday's market close, reporting profit that missed the average analyst estimate. Alcoa shares slipped more than 4 percent in extended trade after ending the regular session 0.6 percent higher. Corporate profits will provide the next barometer of the U.S. economy's health, with analysts projecting that earnings for S&P 500 members dropped 6.9 percent in the third quarter.
Commodities
The Bloomberg Commodity Index climbed 0.3 percent as crude oil and U.S. natural gas led gains. West Texas Intermediate rose 3.4 percent to settle at $49.43 a barrel, briefly surpassing $50 on speculation that demand is picking up.
Oil fell to a six-year low in August amid speculation a global glut will persist through next year. U.S. stockpiles remain about 100 million barrels above the five-year average and the Organization of Petroleum Exporting Countries continues to pump more than its quota.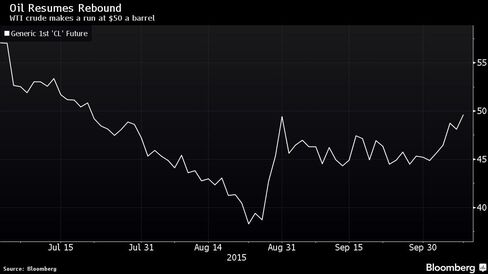 Gold fell from near the highest level in more than a week. Bullion for delivery in three months slipped 0.7 percent to $1,140.70 an ounce.
Industrial metals retreated amid signs of a weak demand outlook in China, the world's second-biggest economy. Copper fell from the highest closing price in more than two weeks, with prices in London down 1 percent to $5,135 a metric ton.
Bonds
U.S. Treasuries fell, with yields on 10-year notes jumping four basis points, or 0.04 percentage point, to 2.11 percent, the highest level in a week. Fed funds futures show a 39 percent chance of a rate increase this year, down from 64 percent odds on Sept. 16, the day before the central bank's last meeting.
Morgan Stanley, one of the 22 primary dealers that trade directly with the Fed, says its clients began discussing the possibility that policy makers will resume bond purchases -- or cut interest rates to below zero -- after the weaker-than-forecast U.S. employment report last week. The firm recommends buying medium-term Treasuries.
Currencies
Bloomberg's dollar gauge, which measures the U.S. currency against 10 major peers, lost 0.4 percent to the lowest level since Sept. 17, the day the Fed stood pat on rates. A gauge of 20 developing-nation currencies advanced 0.7 percent for a fifth straight fay of gains to its highest since August.
The euro strengthened 0.4 percent to $1.1276 and the yen gained 0.1 percent versus the U.S. currency to 119.93.
All 16 major currencies tracked by Bloomberg, except for the Taiwanese dollar, strengthened against the greenback Thursday, with Brazil's real and the Mexican peso leading gains.
Emerging Markets
The MSCI Emerging Markets Index retreated 0.3 percent, pulling back after its longest run of gains since April. Stocks in developing nations have rebounded this month after the worst quarter in four years as traders pushed back estimates for when the Fed will raise rates.
Gains in the Shanghai Composite Index after a week-long market holiday underwhelmed investors, with the gauge rising 3 percent Thursday despite a 7.4 percent surge in the emerging-markets index over the break. China resumed amid data showing the biggest slump in German exports since 2009, adding to signs that a slowdown in emerging-market growth is hurting growth.
Before it's here, it's on the Bloomberg Terminal.
LEARN MORE