Yuan 'Free Lunch' Gone After Devaluation, Says Hang Seng Bank
Days of high returns, low volatility disappeared, says banker

China FX reserves drop helps rebalance world economy: Invesco
The high returns and low volatility that China's yuan offered before the nation's surprise devaluation in August have disappeared, according to Andrew Fung, executive director at Hang Seng Bank Ltd.
"That free lunch is gone," Fung said at the Bloomberg Markets Most Influential Summit in Hong Kong on Tuesday. "On the other hand, as a bank, it's good that the yuan will become more of a two-way movement."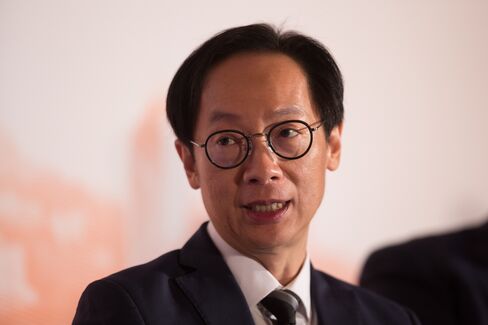 The currency's one-month implied volatility, a gauge of expected exchange-rate moves used to price options, jumped to a record 9.5 percent on Aug. 12, a day after the People's Bank of China devalued the yuan and switched to a more market-oriented reference rate. The measure has retreated to 4.61 percent after top Chinese officials repeatedly stressed that there's no basis for further depreciation.
China, as part of efforts to persuade the International Monetary Fund to include the yuan in its reserves basket in a November review, is opening up its interbank currency and bond markets to foreign central banks.
These come even as Pacific Investment Management Co. and Bank of America Corp. are still predicting a drop of at least 7 percent in the yuan. Hang Seng Bank's Fung said he sees the yuan trading around 6.35 or 6.40 a dollar before the IMF review in November. The yuan , which declined 2.61 percent in August, closed at 6.3571 on Sept. 30 before Chinese markets closed for holidays Oct. 1-7.
PBOC Intervention
In a sign that the PBOC intervened in the currency markets to restrict the yuan's decline, China's foreign-exchange reserves -- the world's largest stockpile -- fell a record $93.9 billion in August. The drop is healthy because it helps rebalance the global economy, said Ken Hu, chief investment officer for Asia-Pacific fixed income at Invesco Ltd. He was speaking at the Bloomberg conference.
For more, read this QuickTake: The People's Currency
Credit Suisse Group AG Greater China Chief Executive Officer Neil Harvey said the nation needs lower real rates. He expects the PBOC to cut interest rates by another 25 basis points and bank reserve-requirement ratios by 100 basis points by the year-end.
Before it's here, it's on the Bloomberg Terminal.
LEARN MORE