UAW Courts Confrontation With Fiat Chrysler Strike Threat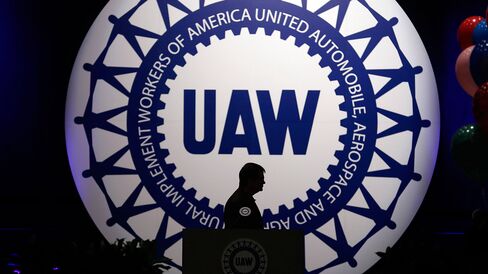 Union sets Wednesday deadline for first walkout since 2007

Workers had rejected pact that gave raises, narrowed pay gap
The United Auto Workers warned that it plans to strike Fiat Chrysler Automobiles NV Wednesday night, moving the thriving U.S. industry toward its first work stoppage in eight years.
The company said talks continue, so a walkout may still be avoided. Fiat Chrysler's UAW members have the right to strike for the first time since before the 2009 bankruptcy that led to the automaker's formation.
The inability of the UAW to win terms that its 40,000 Fiat Chrysler workers will ratify has kept the union from finishing talks with General Motors Co. and Ford Motor Co. The delay clouds an auto industry that has been a rare bright spot in U.S. manufacturing, with sales on pace for the best year in more than a decade.
A work stoppage is a power autoworkers should wield carefully, Art Wheaton, a labor professor at Cornell University, said in an interview. "A lot of them think they've got their shiny new toy back now that they're allowed to strike. But it's really not that good of a tool to use. It's a sledgehammer in a scalpel world."
Strikes by the UAW have been rare for the past decade. The last two were in 2007 when workers walked out of GM plants for two days and Chrysler plants for six hours. Wheaton said the notice is meant for UAW members rather than Fiat Chrysler. Any strike, he said, would probably be short.
"I don't think Fiat acted in bad faith," he said. "So this is a signal to members saying, 'we did all we could, this is as much as we're going to get.'"
Pay Raises
Company spokeswoman Jodi Tinson in an e-mail confirmed the strike notice, which is effective at 11:59 p.m. Detroit time Wednesday, and said the two sides are still talking.
The union had said on Oct. 1 that members voted about 65 percent against a tentative agreement that would have granted raises to all employees and narrowed the pay gap for second-tier workers.
The Fiat Chrysler accord, reached Sept. 15, would have boosted hourly base wages over the contract term to $29.76 at the senior tier and as much as $25.35 for the second tier, according to the UAW. The ratification bonus would have been $3,000. The automaker also had pledged to invest as much as $5.3 billion in the U.S.
The rejection stalled UAW President Dennis Williams's efforts to move on to winning tentative contracts with GM and Ford. Williams sought to use the deal with Fiat Chrysler Chief Executive Officer Sergio Marchionne to negotiate similar but more lucrative pacts from the other two companies. The UAW represents about 40,000 Fiat Chrysler workers.
After top UAW executives met with leaders of local unions last week to hear the workers' concerns, the union said it would start addressing those issues with detailed posts on the website and its Facebook page. A post Tuesday compared the $2,500 cost-of-living raises that workers would have received in the past four years, had those payments not been suspended, with the $9,000 profit-sharing checks they did receive.
Commenters did not appear swayed.
"Weren't we getting BOTH before?," said one post, which was "liked" 111 times in the first two hours.
Before it's here, it's on the Bloomberg Terminal.
LEARN MORE