S&P 500 Year-End Rally Signaled by History, Oppenheimer Outlook
Index rises 5% from October low, based on 30-year average

Analyst Wald sees market-sentiment rebound helping this year
History is on the side of investors buying U.S. stocks in anticipation of fourth-quarter gains, according to Ari Wald, Oppenheimer & Co.'s head of technical analysis.
The chart below tracks the average second-half performance of the Standard & Poor's 500 Index in the past 30 years, according to data compiled by Bloomberg. The average reached a low on Oct. 9 and climbed 5 percent from that level through year-end.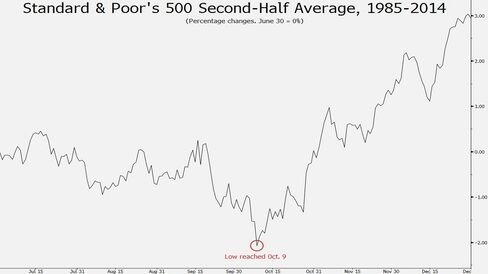 "Investors should be positioning for a Q4 rally," Wald wrote yesterday in a report. The New York-based analyst cited two reasons for his call: the S&P 500's seasonal pattern, which he showed in a chart, and the potential for renewed optimism among investors.
Oppenheimer's sentiment index just bounced off its lowest level since 2011, according to data presented in Wald's report. The indicator is a composite of survey results from the American Association of Individual Investors, Consensus Inc., Stockcube Ltd.'s Investors Intelligence service and Market Vane Corp.
Any year-end advance may lift the S&P 500 no higher than about 2,060, Wald wrote. His prediction reflects the slump in stocks since mid-August as well as the index's 200-day moving average, a gauge of market trends. The average is based on closing values for the past 200 trading days, and ended yesterday's trading at 2,062.98.
Wald's outlook is less optimistic than those of most Wall Street strategists, based on a Bloomberg survey. The average year-end estimate for the S&P 500 among 21 strategists is 2,142, up from yesterday's close of 1,987.05. Oppenheimer's chief investment strategist, John Stoltzfus, is looking for 2,311.
Before it's here, it's on the Bloomberg Terminal.
LEARN MORE