S&P 500's Latest Trip Toward 2,000 Comes With VIX in Retreat
Almost $700 billion in value added to stocks since Sept. 28

Volatility indicator goes below 20 for first time since August
The five-day surge that has restored almost $700 billion to U.S. equity prices is closing in on a level where previous rallies have faltered. Measures of stress in the stock and options market suggest to one strategist that the potential for success is greater this time.
Aided by a 1.8 percent gain Monday and the biggest intraday turnaround in four years on Friday, the benchmark gauge for American equities has jumped 5.6 percent since Sept. 28 in its longest rally of the year. At 1,987.05, the index is closing in on its highest level since bottoming two months ago and is within 1 percent of 2,000 for only the fifth time since Aug. 20.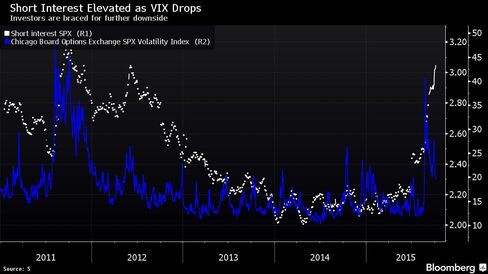 For traders, the question is whether stocks are doing something new, or just bouncing around in the same type of range that prevailed between March and August, albeit 50 points lower. Clues could be the amount of short interest left in the market and the level of the Chicago Board Options Exchange Volatility Index, the proxy for investor nervousness that just did something it hadn't done for seven weeks.
"With the VIX falling below 20, it diminishes the case for being short," Tom Lee, managing partner and co-founder of Fundstrat Global Advisors LLC, said by phone. "With short interest at multi-year highs and mutual funds getting very defensively positioned, it means the market's already positioned to the downside and good news could mean we explode to the upside."
Lee, who worked at JPMorgan Chase & Co. until last year, was bullish at the start of each of his six full years there as chief strategist. He predicts the S&P 500 will end 2015 at 2,325, implying a 17 percent rise from Monday's close. That's the most bullish in a Bloomberg survey of 21 strategists, where the average year-end price is 2,142.
The rally in equities pushed the VIX down 6.7 percent Monday to 19.54, bringing its five-day retreat to 29 percent, the most since the end of August. Prior to that the volatility benchmark had spent 30 days above 20, the longest streak of elevation since 2012, data compiled by Bloomberg show.
The S&P 500 slipped 0.2 percent to 1,983.82 at 9:33 a.m. in New York Tuesday.
Since Sept. 22, four-month futures contracts on the VIX were trading at lower levels than those expiring in one month, according to data compiled by Bloomberg. On Monday, the relationship reversed, a sign to Lee that a bottom in the stock market has occurred. The same indication occurred shortly after six other market lows since 2005, according to Lee.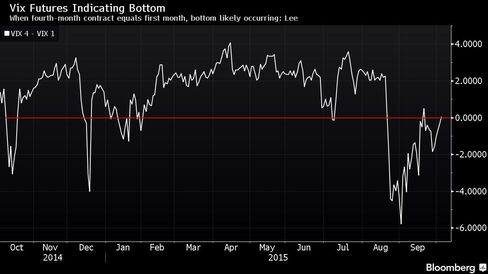 As of Monday's close, about 3.1 percent of U.S. stocks had been borrowed and sold, the first step in a short sale, according to data from research firm Markit Ltd. That's the highest proportion since 2011. With the volatility in free fall, history would suggest that short interest would also ebb.
On the six occasions since 2011 when the VIX had a six-day slide, short interest dropped in all but one instance, data compiled by Bloomberg show. When the volatility gauge closed below its four-year average of 17.5 since 2011, short interest has averaged 2.4 percent. When the index is above the mean, that rises to 2.7 percent.
There's strong evidence that bearish investors buying shares to close positions is already contributing to the rally. A Goldman Sachs Group Inc. index of the most-shorted stocks surged 9.5 percent in four days after falling to a five-year low on Sept. 29.
"That the VIX is falling at the same time that the equity market is having this huge rally is not at all unexpected," said Steve Sosnick, an equity risk manager at Timber Hill, the market-making unit of Greenwich, Connecticut-based Interactive Brokers Group Inc. "The question becomes how low the VIX will go. It's really a question of whether we're going to stay in a low-volatility regime for a while. It's way too early to answer that."
Before it's here, it's on the Bloomberg Terminal.
LEARN MORE