Jakarta gauge has rallied almost 9 percent in seven days

Foreign investors will come back, says pension fund chief
Indonesian stocks will rally through year-end as an undervalued rupiah lures back global money managers and President Joko Widodo delivers on plans to improve infrastructure in Southeast Asia's biggest economy, according to the nation's largest investor.
"The bottom is past already," Elvyn Masassya, who oversees the equivalent of $14.3 billion as president director of state pension fund BPJS Ketenagakerjaan, said in an interview on the sidelines of the Bloomberg Markets Most Influential Summit in Hong Kong on Tuesday. Foreign investors "will come again," he said.
The Jakarta Composite Index, the biggest loser in Asia from mid-April through Sept. 28, has since rallied 8.8 percent to lead gains in the region. The rupiah strengthened 4.9 percent this week, more than twice as much as the next-best performing Asian currency.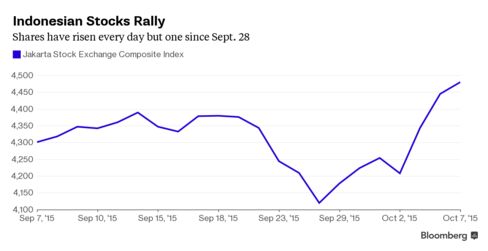 While the rebound has been fueled by speculation the U.S. Federal Reserve will delay its first interest-rate increase since 2006 until next year, Masassya is betting that government plans to build railways, airports and seaports will keep the rally intact. Widodo, known as Jokowi, has made infrastructure spending a centerpiece of efforts to revive confidence among foreign investors who pulled more than $2 billion from Indonesian stocks and local-currency government debt last quarter.
Foreign funds bought a net $59 million of Indonesian stocks on Tuesday, the most since July 10, following inflows of $23 million on Monday, according to exchange data. Old Mutual Global Investors Ltd. has started to "bargain hunt" in Indonesia, said Joshua Crabb, head of Asian equities in Hong Kong at the unit of Old Mutual Plc, which manages about $500 billion of assets worldwide. He cited a combination of low valuations, currency weakness and signs that work is starting on some infrastructure projects.
Bargain Hunting
State spending "has been held up by issues around bureaucracy and politics," he said. "But it's been showing a little bit of life."
Jokowi has been trying to speed up the development of infrastructure projects and in August he inaugurated a long-delayed $4 billion power plant development in Central Java, even as some farmers held out against selling their land. Finance Minister Bambang Brodjonegoro said Sept. 21 that the government had met 60 percent of its spending target for 2015.
The shares of state-controlled construction company PT Wijaya Karya rose 11 percent this week, PT Indocement Tunggal Prakarsa advanced 15 percent and PT Semen Indonesia is up 12 percent.
While the nation's sovereign bonds have also rallied over the past five days on optimism the Fed will keep rates lower for longer, there's little evidence that foreigners are piling back into the Indonesian debt market. Foreign funds sold a net 7.9 trillion rupiah ($565 million) of the notes in the seven days through Oct. 2, the latest available Finance Ministry data show.
Oversold Situation
"This is pure global risk-on due to expectations of the Fed hike being pushed into 2016," said Edwin Gutierrez, who helps oversee $13 billion as the head of emerging-market sovereign debt at Aberdeen Asset Management Plc in London. Aberdeen "isn't buying at the moment" because it's a long-term investor and already has all the Indonesian notes it wants, he said.
There are also doubts over whether the rally in the rupiah can be sustained. Jason Daw, head of Asia currency strategy at Societe Generale SA in Singapore, forecasts the currency will weaken to 15,400 a dollar by year-end and 16,000 by the end of the third quarter of 2016. The rupiah rose 2 percent as of 10.29 a.m. in Jakarta to 13,965, the biggest gain since 2009.
"Significant depreciation in emerging-market currencies in the past few months means that a pause or short-term reversal would not be unusual," Daw said. "We view the recent strength as temporary and look for the rupiah to continue weakening."
Ashmore Group, which oversees $59 billion of emerging-market assets, has been adding to its Indonesian stock holdings in the past two weeks, said Arief Wana, a Jakarta-based director at the money manager.
"With a little bit of stability, the Indonesian market can jump," he said. "We have come from a very oversold situation."
Before it's here, it's on the Bloomberg Terminal.
LEARN MORE