Treasuries Advance as Goldman Says Fed May Delay Well Into 2016
Traders cut bets on rate move this year to 34%, futures show

U.S. auctions $24 billion of three-year notes at 0.895% yield
Goldman Sachs Group Inc. says there's a chance the Federal Reserve will delay its planned interest-rate increase well into 2016, or even later.
Treasuries gained, rallying after a selloff Monday lifted 10-year yields by the most in two weeks. While a December liftoff is still Goldman Sachs's central forecast, a slowdown in output and employment may justify the Fed keeping the near-zero rate policy for "much longer, well into 2016 or potentially even beyond," Jan Hatzius, the bank's New York-based chief economist, wrote in a note to clients.
Futures traders have been trimming bets the Fed will boost rates this year even as officials including Chair Janet Yellen and William C. Dudley have said they expect to act in 2015. Kansas City Fed President Esther George and San Francisco Fed President John Williams are scheduled to speak Tuesday.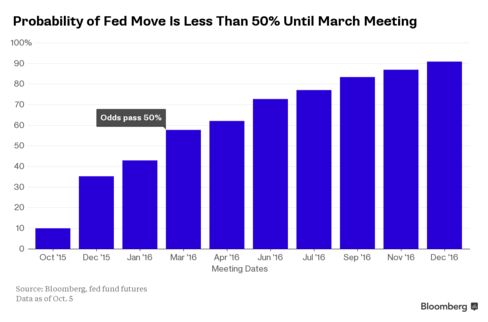 "If the Fed's on hold for longer, it increases the risk for future inflation," said Aaron Kohli, an interest-rate strategist in New York with BMO Capital Markets, one of 22 primary dealers that trade with the Fed. "All the central banks are in easing mode or not-hiking mode. It looks like the Fed won't be able to hike again for at least a few months."
Benchmark 10-year note yields fell two basis points, or 0.02 percentage point, to 2.03 percent as of 5 p.m. New York time, according to Bloomberg Bond Trader data. The 2 percent security due in August 2025 rose 7/32, or $2.19 cents per $1,000 face amount, to 99 23/32.
Shifting Outlook
The yield ended the third quarter at 2.04 percent. At the end of last year, Goldman Sachs forecast the yield to be at 2.85 percent at the end of September versus the median estimate of 2.90 percent, according to data compiled by Bloomberg.
The probability the U.S. central bank will increase rates this year has dropped to 34 percent, from 60 percent at the end of August, according to futures data compiled by Bloomberg. The calculations are based on the assumption that the effective fed funds rate will average 0.375 percent after liftoff, versus the current target range of zero to 0.25 percent.
The chance of a move by the next meeting on Oct. 27-28 has declined to just 8 percent following a monthly jobs report last week that showed U.S. employers added fewer workers than economists forecast and wage growth stalled.
"Further bad news on output and employment could potentially result in quite a large shift in the monetary policy outlook," said Hatzius at Goldman Sachs, a primary dealer. "The growth and labor market numbers over the next couple of months are therefore likely to be even more important than usual."
Slower Pace
For more, read this QuickTake: The Fed's Countdown
Traders are also reducing the pace at which they think the Fed will raise. By the December 2016 meeting, a 65 percent chance of two or more rate hikes has been priced in; at the start of this year futures suggested such an outcome was a near certainty.
"The Fed have indicated that if things go according to plan they will be raising rates about a percent per annum, or that kind of pace," said John Stopford, head of fixed income at Investec Asset Management in London. "The market doesn't believe that and is priced for half that or even less. At some point that will come to a head. So far the market has tended to be right in doubting the Fed."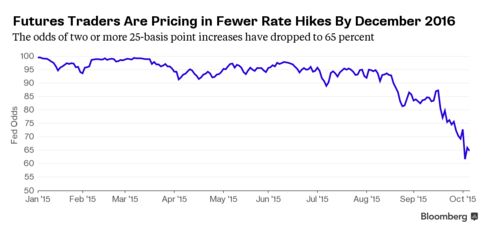 The U.S. auctioned $24 billion of three-year notes at a yield of 0.895 percent. Investors bid 3.14 times the amount of debt sold, a measure known as the bid-to-cover ratio, in line with the 10-auction average of 3.29 times.
"The auction benefited from the rethink-of-the-Fed sentiment that's out there," said Ian Lyngen, a government bond strategist at CRT Capital Group LLC in Stamford, Connecticut. "The three-year tends to go well, and it did."
The Treasury will sell $21 billion of 10-year securities Wednesday and $13 billion of 30-year bonds on Oct. 8.
Before it's here, it's on the Bloomberg Terminal.
LEARN MORE