Dorsey Squared: Tara Lachapelle
The Square app is where you go to get paid. Just don't count on the same being true when it comes to its stock.
All signs point to a rocky market debut for the mobile-payments company, which is said to be planning to list shares before the end of the year. Jack Dorsey, the guy who runs Square, was also just appointed chief executive of Twitter -- because what's another $19 billion responsibility, right?
Dorsey, who co-founded both, will have to find a way to split his time between two businesses that are very needy right now. First, there's Twitter: Other social-media apps such as Instagram and SnapChat have begun to steal its spot in the limelight. Its shares have tumbled 48 percent in the past 12 months, while the Nasdaq Internet Index gained. Dorsey has to figure out how the microblogging service can start making money, continue growing and stave off new competitors.
If that weren't enough, there's Square: Dorsey also has to oversee what could be one of the biggest U.S. IPOs of 2015 during the most volatile market conditions in years. The S&P 500 is down 3.8 percent, with the majority of the losses occurring since mid-August. The Bloomberg IPO Index, which tracks stocks during their first year of trading, has fallen 21 percent, on track for its worst performance since 2011.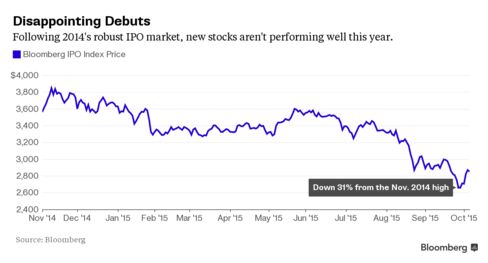 Square fans may say that it's somewhat shielded because energy, industrial and commodities-related companies are being hit hardest, not tech. But that's a tough argument to stand up when shares of PayPal, Square's closest public peer, are languishing.
The payment platform was spun off from EBay in July and has slid 13 percent since, wiping out $5.5 billion of market value. It separated from its parent company just as the market for spinoffs became overcrowded and started to pull back.
Square, while a handy app for consumers and merchants, could become a victim of poor timing, too. Not that the IPO has to go forward just now.
Dorsey and Square's underwriters -- said to be Goldman Sachs, Morgan Stanley and JPMorgan Chase -- must know what they're doing. It's not like these are the same banks that led Facebook's IPO flop in 2012.
Oh, wait.
Before it's here, it's on the Bloomberg Terminal.
LEARN MORE