Denis Healey, Ex-U.K. Chancellor of the Exchequer, Dies at 98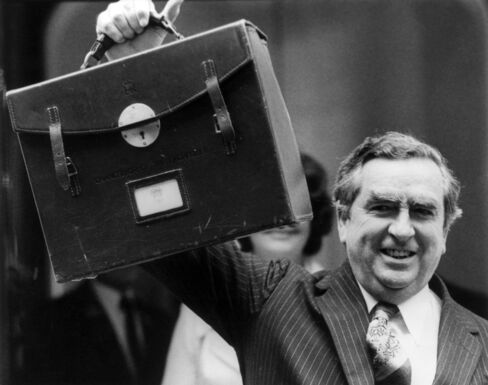 Denis Healey, Britain's chancellor of the exchequer during a period of economic turmoil and trade union unrest in the late 1970s who reportedly threatened to squeeze the rich "until the pips squeak," has died. He was 98.
Healey died at his home in Sussex, southern England, on Saturday, the British Broadcasting Corp. said, citing a family statement. Chancellor of the Exchequer George Osborne described Healey as a "giant of the Labour movement" who was "chancellor in the most difficult circumstances."
Born in the year of the Russian Revolution, Healey became a member of the Communist Party as a student at Oxford University, later moving to the Labour Party where he narrowly missed out on the leadership after the party lost power to the Conservatives in 1979. He was a member of parliament for 40 years until 1992 when he entered the House of Lords.
"Healey did not attain the highest office," wrote biographer Edward Pearce. "But because he was not obsessed with the highest office, that has been our loss not his grief."
Healey served as defense secretary from 1964 to 1970 and then as chancellor from 1974 to 1979, when he resorted to an International Monetary Fund loan to shore up the public finances. His attempts to impose budget discipline and wage restraint were ultimately overshadowed by the period of union strife culminating in 1978's so-called Winter of Discontent.
Disastrous
Edmund Dell, a junior minister in Healey's Treasury, wrote of "three Healeys" during 1974-79: the "political" chancellor who inherited a disastrous situation, but postponed the medicine until after the second general election of 1974; the "orthodox" chancellor who in 1976 turned to the IMF to save the pound, and then let it rise too high when oil was discovered in the North Sea in 1977; and the "resurrected" political chancellor who aimed for election victory and a possible prime minister role.
Many in his party turned against him for yielding to IMF pressure to cut spending in return for the bailout. Labour "took its revenge on Healey for his outstanding services to the Labour government by denying him the succession to James Callaghan as leader," Dell wrote in his 1996 book "The Chancellors." "But he showed no resentment. He knew that there is no gratitude in politics."
'Most Exciting'
A multilingual polymath, Healey belonged to a generation of politicians steeped in both classical learning and the bloodshed of war. In his memoirs, "The Time of My Life," he described chancing on a work of art by Botticelli in an Italian drawing room while he was a soldier in 1944. He said it was "the most exciting moment of my life."
In the House of Commons, his debating style could be cutting. He once brushed off an attack by his Conservative opponent Geoffrey Howe by dismissing the experience as "rather like being savaged by a dead sheep." It was a put-down that came to define Howe's political character. Biographer Edward Pearce described Healey as "a thinker but not a dreamer" and "a pragmatist, someone who looked for the most intelligent way of doing the job."
Denis Winston Healey was born on Aug. 30, 1917, in Mottingham, south east London, the son of William, an engineer, and Winifred. His family, including two siblings, moved to Yorkshire, north England, when he was five, and he later became closely associated with the working class north, attending Bradford Grammar School.
Political Affiliation
His parents chose his middle name in honor of the man who would go on to lead the nation in World War II, though Healey recalled that being named after the aristocratic, and Conservative, Churchill attracted mockery, rather than honor, in the left-wing Labour movement.
The young Healey's first political affiliation was a brief foray with the Communist Party when he was a student studying classics at Oxford University's Balliol College. He left the Communists some time before achieving a double first in 1940, moving on to serve with the Royal Engineers during World War II.
He saw active service in North Africa and in Italy, where he was the military landing officer for the British assault brigade at Anzio. He left the army as a major and immediately fought in the general election as a Labour candidate for the Conservative-held seat of Pudsey and Otley. Although he doubled the Labour vote, he failed to win the seat. The same year Healey married Edna Edmunds, who later became a filmmaker, historian and biographer.
Defense Secretary
After working as Labour's international secretary, Healey won a bid for Parliament in a 1952 special election in Leeds East. He would hold the same seat despite boundary changes throughout his career in the House of Commons.
His first Cabinet role was as defense secretary under Prime Minister Harold Wilson between 1964 and 1970, a period in which he was preoccupied with the future of Britain's nuclear deterrent and the North Atlantic alliance. He allowed the U.S. to build a military base at Diego Garcia.
That role led Healey to indulge his passion for international affairs and allowed him to broaden a network of friendships with public figures from both the rest of Europe and the U.S. He counted among his friends former German Chancellor Helmut Schmidt, who fought in World War II in Russia. After the war, Healey was a lifelong proponent of reconciliation with Germany.
IMF Loan
His greatest test in government came as head of the Treasury in the 1970s during the premiership of James Callaghan, when the U.K. economy was mired in oil-price induced inflation and flare-ups of industrial action. The Times reported a speech he made in Lincoln in 1974 in which he said he would "squeeze property speculators until the pips squeak." Healey would be later widely reported as saying that Labour would "tax the rich until the pips squeak," something he always denied.
He recalled his period in the Treasury as marred by fatigue and at times ill-health as he pushed through spending cuts and attempted to broker wage restraints. "My biggest problem, frankly," he told the Guardian in an interview in 2006, "was trying to get the unions to be sensible about pay. In my first year the overall increase in pay was 26 percent."
In 1976, he asked the IMF for a 3.9 billion-pound loan, based on Treasury borrowing projections that subsequently proved to be overstated. In a 2004 lecture at the London School of Economics, Healey described the decision to request the IMF credit as "very, very difficult indeed and in fact totally unnecessary." The British government drew down half its loan and had repaid it by the time Healey left office.
Mere Guesswork
The experience confirmed a life-long suspicion of statistics that had its roots in a spell during his military service when he had to count numbers of troops getting on and off trains during blackouts, a process Healey later said was mere guesswork.
When Callaghan resigned after losing the 1979 general election to Thatcher, it led to a contest for the leadership of the Labour Party which Healey lost by 10 votes to Michael Foot, effectively bringing to an end his chances of becoming leader of either his party or the country.
It was an outcome that helped bring about the split of the Labour Party in 1981, ensuring it would spend the following 16 years in the political wilderness.
Healey said in his memoirs that he had no regrets if he lost out on becoming prime minister by making unpopular decisions. "I have always been in politics in order to do something, rather than to be something," he wrote.
Tuition Fees
Healey retired from the House of Commons in 1992 and was appointed to the House of Lords, Britain's upper, unelected chamber of Parliament, the same year.
He became increasingly critical of Prime Minister Tony Blair, deploring the decision to go to war in Iraq and lashing out at the introduction of university tuition fees. In 2006 he said nuclear weapons were no longer needed, while in 2013 he told the New Statesman magazine that he would vote to leave the European Union. "The case for leaving is stronger than for staying in," he said.
Healey said his greatest regret was that he didn't serve as foreign secretary, yet many of his Labour Party colleagues bemoaned his failure to achieve the U.K.'s highest office.
"He would have been a great prime minister because he possessed in abundance the two essential requirements of that office: courage and intellect," wrote his former ministerial colleague Roy Hattersley in the Observer newspaper in 2002. "His failure to lead the Labour Party -- and the country -- was a tragedy."
Healey and his wife, who died in 2010, had three children Tim, Jenny and Cressida.
Before it's here, it's on the Bloomberg Terminal.
LEARN MORE