Syria War Sidelines Bond Investors Eyeing Russian Political Risk
Bond gains may be limited as optimism fades over closer ties

Putin to meet French, German leaders to assess Minsk accord
President Vladimir Putin's call for a coordinated effort to fight Islamic State in Syria is failing to convince some investors it's time to buy Russian assets.
While bonds gained earlier this week amid speculation tensions will ease with the U.S., paving the way for an end to 14-month-old sanctions, prospects for better ties may fade as the countries' face off over military objectives in Syria. Russia said this week it carried out strikes on IS targets, while U.S. and French officials said the attacks weren't in areas IS controlled. The ruble fell for a second day.
"The geopolitical backdrop still provides more questions than answers and negative headlines create more price action than positives," said John Bates, a senior vice president at PineBridge Investments, which has $77.7 billion in assets under management. "So it is not the time to buy Russia. We are being very picky at the moment."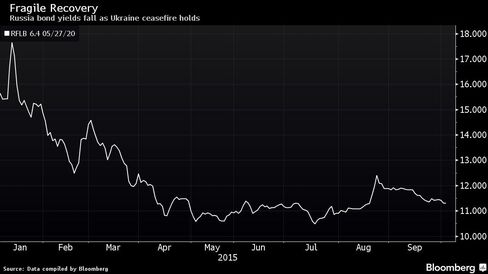 The U.S. and Europe imposed sanctions on Russia last year for its annexation of the Crimea peninsula in March and support for pro-Russian rebels in Ukraine's easternmost regions. Those penalties have limited companies' access to international capital at the same time as tumbling oil prices helped drive the country into its first recession in six years.
Putin is due to meet with the leaders of Germany and France in Paris on Friday to take stock of progress on the Minsk agreement that negotiated a fragile ceasefire in Ukraine in February.
As long as Russia remains at an impasse with Ukraine it will be unable to mend relations with the West, said Lutz Roehmeyer, the director of fund management at Landesbank Berlin Investment.
"The softening of sanctions is only dependent on one thing, Crimea," said Roehmeyer, who helps oversee $1.1 billion of assets. "I hear no talk about that."
'Geopolitical Premium'
The yield on five-year bonds rose eight basis points to 11.38 percent after falling to a six-week low on Thursday. The ruble weakened 1.5 percent to 66.658 per dollar at 4:29 p.m. in Moscow, the biggest decline among 31 major peers worldwide. The currency has lost 8.9 percent this year as oil slipped into a bear market, after depreciating 46 percent in 2014.
"The Russian intervention in Syria is still a developing story, and difficult to say at this stage whether it will acquire a geopolitical premium," said Greg Saichin, the chief investment officer for emerging-market fixed-income at Allianz Global Investors Europe GmbH. "At this stage Russian bonds have become less attractive on a relative value basis."
Before it's here, it's on the Bloomberg Terminal.
LEARN MORE