Portugal Vote Raises Risk of Hung Parliament
Here's your election cheat sheet.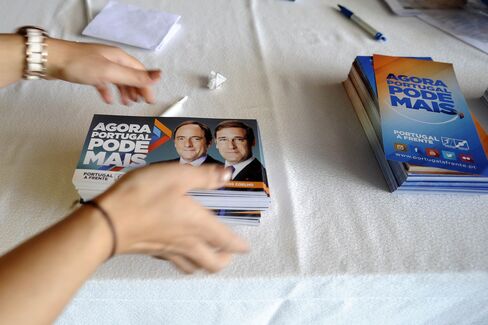 Portugal's voters go to the polls on Sunday and unlike recent elections in other European countries they'll mostly be choosing between two traditional parties.
With the ruling coalition's share of the vote falling and the opposition party gaining ground there's increasing risk of a hung parliament, analysts say. Whatever the outcome, Portuguese government bonds should remain supported, unless the next government's commitment to debt reduction wanes, something few expect.
Here what you need to know about Sunday's election.
Who's who?
The current govt is a coalition of the Social Democrats and the smaller conservative CDS party; they are forecast to get between 35 percent and 43 percent of the vote, according to polls over the past week; the pair ran separately in 2011 and won a combined 132 of 230 seats.
The Socialists are polling between 32-36 percent ahead of Sunday's vote vs 28 percent and 74 seats in the last election.
What does the vote mean for markets?
An inconclusive outcome would likely put Portuguese government bonds under pressure and spur a rise in volatility, Morgan Stanley says in client note.
Rabobank analysts though say the threat to bonds, even if the outcome is a minority government, will be relatively limited as the major parties broadly support the country's commitment to debt reduction and to meeting EC's budget deficit rule.
While the Socialist Party promises to move beyond austerity, they seem more likely to shift spending around rather than increase it, Rabobank analysts say.
Other analysts surveyed by Bloomberg expect the outcome will be supportive for bonds
Portuguese government bonds are seen as a major beneficiary were ECB to extend QE and the recent underperformance of Portugal offers an attractive opportunity once risk of read-across from Catalan vote wanes, Deutsche Bank says.
With the situation also visibly improving on the fundamental front, a positive outcome should see Portuguese debt outperforming, DZ Bank analysts say.
What's the latest on the likely outcomes?
A summary of recent polls shows the current coalition in the lead, with that lead narrowing recently, according to TV stations RTP and Publico.
There's a risk of a minority govt, given the largest parties are in such a tight race Morgan Stanley analyst Daniele Antonucci says.
Neither of the two main contenders is likely to secure absolute majority, Eurasia analyst Federico Santi says, adding President Cavaco will probably play a crucial role in facilitating a compromise between PS and PSD-CDS/PP that prevents another bout of political uncertainty.
What else is at stake?
Mainstream parties seem more focused on securing less austerity than implementing reforms, Morgan Stanley says. Risks of a hung parliament, and less focus on structural change may cast doubts on potential growth.
The election comes as an upgrade to investment grade remains elusive. Standard and Poor's lifted its rating to BB+ vs BB on September 18, saying it expects broad policy continuity, regardless of the election outcome.
Fitch affirmed its BB+ rating, albeit with a positive outlook. It said the country's structural fiscal deficit is set to widen and the tight electoral contest means uncertainty over how quickly a new government can be formed and subsequent cohesion and stability can be achieved.
Meeting EU deficit and debt reduction targets will be challenging, it added.
S&P warned that policy slippages could jeopardize the medium-term fiscal and economic trajectory and could lead to a significant deterioration in external financing conditions.
Polls open at 8 a.m. and close at 7 p.m. local time, with first exit poll expected an hour later.
Before it's here, it's on the Bloomberg Terminal.
LEARN MORE