Five Things Everyone Will Be Talking About Today
It's jobs day. Time to get caught up.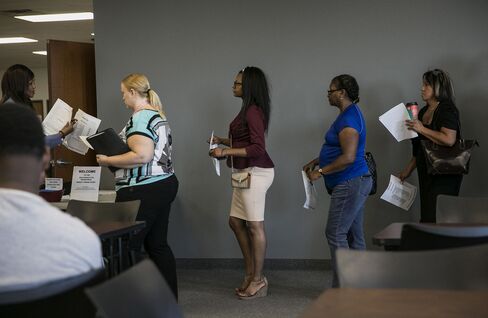 It's jobs day. Here are some of the things people in markets are talking about this morning.
Jobs Day
U.S. employers probably added about 201,000 workers in September, with the unemployment rate holding steady at 5.1 percent according to economist forecasts collected by Bloomberg. Today's number, scheduled to be released at 8:30 a.m. ET, will be closely watched as it is the only jobs report due before the Federal Reserve's October meeting. Economists will be paying close attention to wage data in the report as they look for signs of a much-awaited pick up in worker pay.
Hedge-funding like it's 2008
Some star hedge funds have been having their worst performance since 2008 with David Einhorn and Michael Novogratz dropping 17 percent this year and Bill Ackman losing 13 percent in a publically traded fund. Other firms have seen billions of dollars in withdrawals. While the average hedge fund has only recorded 3 percent losses through September 30, according to Hedge Fund Research Inc., high profile managers have struggled in a year that has seen surprise currency moves in Switzerland and China, a strong rally in European government debt and some major pain for some former stock market high-flyers.
Emerging market outflows
Emerging markets are set to suffer their first annual net outflow in 27 years in 2015, with investors estimated to pull $540 billion from developing markets according to data from the Institute of International Finance. Concerns over growth in China, and political turmoil in Brazil and Turkey which have sent exchange rates to all-time lows in 2015, coupled with the continuing commodity slump leave investors with little reason to increase exposure to those markets.
Global trade slump
This week the World Trade Organisation reduced its forecast for global trade to 2.8 percent from 3.3 percent, far below the 5 percent average since 1995. Carl Weinberg, chief economist at High Frequency Economics, who estimates that there is a 70 percent correlation between global GDP expansion and export changes warns that "this could be more than an economic headwind, it could be a tornado." There is one bright spot for the U.S. as data released on Wednesday showed it has become a net exporter of oil to Mexico for the first time in two decades.
Joaquin makes a turn
According to latest projections from the National Hurricane Center, Joaquin is turning away from the U.S., meaning coastal states are likely to avoid the worst of any potential damage. Yesterday insurance stocks were hit as some investors prepared for the worst.
What we've been reading
This is what's caught our eye over the last 24 hours.
Want to receive this post, and more, into your inbox every morning? Sign up here
Before it's here, it's on the Bloomberg Terminal.
LEARN MORE