Munis Cheapest in 5 Weeks to Treasuries as Payrolls Fall Short
Prices in the $3.6 trillion municipal-bond market are the cheapest in five weeks relative to Treasuries after U.S. payrolls rose less than projected in September, spurring a rally in federal government debt on signs the global slowdown is affecting the world's largest economy.
Benchmark 10-year munis yield 2.09 percent, compared with 1.92 percent on similar-maturity Treasuries, data compiled by Bloomberg show. The ratio is a measure of relative value between the asset classes. It reached 109 percent Friday, the highest since August, signaling that tax-free bonds are cheap relative to their federal counterparts.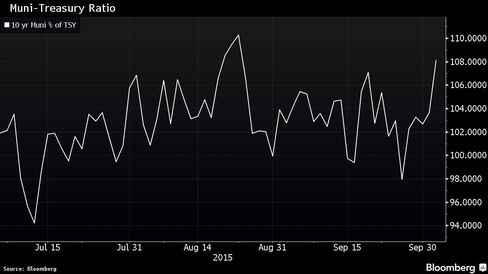 Ten-year Treasury yields plunged 0.11 percentage point after a Labor Department report showed the U.S. added 142,000 jobs, lower than the median forecast of 201,000 from a Bloomberg survey of 96 economists. Weakening foreign markets, a stronger dollar and lower oil prices raise the risk that employers will hold off on adding workers.
Munis rallied to a smaller degree. As prices rose, the yields on both 10-year and 30-year AAA bonds fell 0.02 percentage point to the lowest since April, data compiled by Bloomberg show.
The 10-year muni-Treasury ratio was as low as 94 percent in July. Over the past decade, the figure has averaged 97 percent.
Before it's here, it's on the Bloomberg Terminal.
LEARN MORE