Putin's Economic Might Is Withering Away
Gloom spreads as recession's grip shows no signs of waning

Russia seen losing ground among world's biggest economies
Anatoly Anisimov is still wistful about the cow barn he'd planned to build. With the latest Swedish milking machines, it would have cut his costs and boosted by 40 percent the size of the herd at the state-owned farm that he runs outside Moscow.
"It would have been nice for the animals," he says.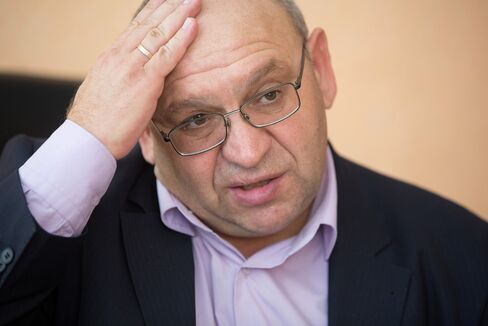 Anisimov, 50, has put his plans on hold as he digs in for what could be Russia's longest recession in almost two decades. "Nothing good awaits us next year either," he says.
Across the Russian economy, businesses have shelved investment plans, worried that the ruble might extend its decline if oil prices slide further and that geopolitical tensions could bring new economic headwinds.
The prospect of a prolonged slump is a challenge for the Kremlin, which has relied on rising living standards to boost popular support, as well as foreign investors, who have bet billions on Russia as a growth market.
For the moment, the Kremlin has been dialing back the tensions in Ukraine, which could lead to an easing of the sanctions imposed by the U.S. and Europe over the crisis there.
Russian officials say the economy has hit bottom; business executives are unpersuaded. Capital investment declined 6 percent in the first eight months of this year. Many companies have cash - corporate profits are up 38 percent this year, boosted mainly by the drop in the ruble - they just aren't ready to spend it.
'Negative Expectations'

"Businessmen and ordinary people have formed strong negative expectations," says former Finance Minister Alexei Kudrin, compounding the impact of sanctions and the plunge in oil prices. "That induces capital outflows and leads to greater economic contraction."
Even if the economy recovers in the next few years, growth will be so slow that Russia's share of world output will still shrink to the lowest level since the collapse of the Soviet Union, erasing the gains of President Vladimir Putin's 15-year rule, he says.
Already, budget pressures forced the government to cut or delay parts of the 20-trillion-ruble military modernization that Putin has made a top priority in his drive to rebuild Russia's global might.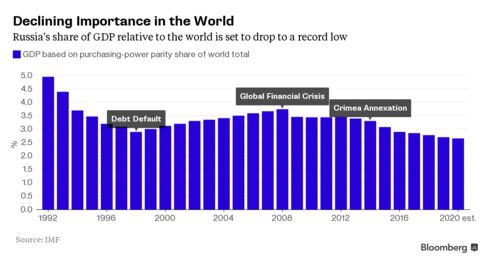 Russia bounced back fast from the previous two recessions, returning to growth within 18 months.
This time, even the central bank's official forecast expects the contraction to continue into next year, making this the longest recession since the one that followed the demise of the Soviet Union, and recovery is expected to be tepid once it begins.
"This crisis is a bad one because it's going to last a long time," says Sergei Kolesnikov, president of Tekhnonikol, a mid-sized maker of construction materials. He halted plans to build a new insulation factory, reflecting a 15 percent decline this year in domestic sales as builders slashed spending. Exports have increased thanks to the drop in the ruble, which has made his products cheaper in foreign markets, he says. Still, he's not optimistic.
"It's like running into the wind uphill in the dark," he says. "It wears you out."
Low Investment
Construction and consumer-related sectors have been among the hardest hit, battered by the spike in interest rates and the drop in incomes. Construction volumes were down 8.1 percent in the first eight months of the year to the lowest level in more than five years, while retail sales fell 8.2 percent.
Even sectors that would seem to be better off, such as agriculture, which enjoys government support and protection from foreign competitors thanks to retaliatory sanctions imposed by the Kremlin, have cut back on investment.
Big metals and commodity producers, whose costs have dropped in dollar terms because of the 40 percent fall in the ruble over the last year, are focusing on paying down debt after spending heavily on upgrades in previous years.
"We simply have no need for huge investments," says Sergey Sulimov, CFO at OAO Magnitogorsk Iron and Steel.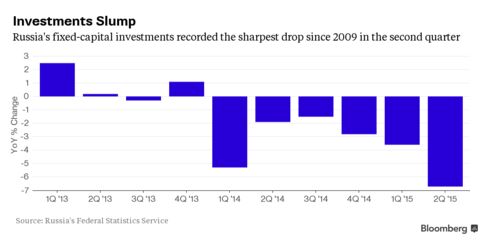 Valery Mironov, deputy director of the Development Center at Moscow's Higher School of Economics, says, "business is holding onto its money." He estimates that even with the effect of sanctions, which have cut access to most U.S. and European financing, Russian companies have generated more than 1 trillion rubles ($15 billion) in profits this year that they could have devoted to new investments but aren't.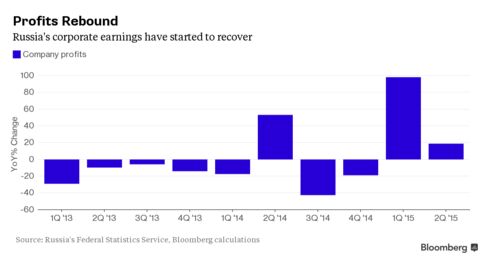 By some measures, Russia's latest recession doesn't look so bad. The unemployment rate, at 5.6 percent, was up only slightly. Business executives and economists say most companies try to hold onto workers, fearing political repercussions from large layoffs. A shrinking working-age population means they'll have a hard time replacing those they fire when the economy comes back.
Brick Paychecks
Some companies are resorting to steps reminiscent of the crisis years of the 1990s, when many fell behind on wage payments. One brick factory near the central Russian city of Tula fell so short of cash this spring it began to pay workers in bricks, according to local officials.
Mikhail Levchuk, executive director of Argus-Spektr, a St. Petersburg maker of security systems for buildings, says he closed three of his company's five offices in the last year to save cash.
"It's pointless to invest anymore because the market is falling," he says. "Business has stopped feeling the effect of the ruble. Before, the devaluation helped, but not this time."
For now, Anisimov, the dairy farmer, says he's making do with the equipment he has.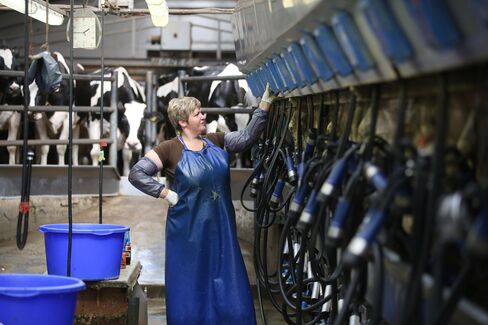 Even with costs up about 30 percent, he's stuck because incomes are down. "If we increased prices, nobody would buy," he says. All the milking equipment is imported, so its cost in rubles has roughly doubled since last year. The new barn that would have cost 300 million rubles a year ago now would cost more than 500 million, he says.
"I don't know how long we'll have to put it off for," he laments. "That's a question for the politicians."
Before it's here, it's on the Bloomberg Terminal.
LEARN MORE