Megadeals Regain M&A Dominance Through 1990s-Style Expansion
$10 billion-plus offers count for bigger share of dealmaking

Sales, stock values, `cash piles' signal peak isn't here yet
Megadeals are regaining the kind of dominance over mergers and acquisitions worldwide that prevailed during the 1990s Internet bubble, according to Pierre Lapointe, Pavilion Global Markets Ltd.'s head of global strategy and markets.
The chart below tracks these deals, initially valued at $10 billion or more, as a percentage of the dollar value of all takeover offers. The figure for the first three quarters of this year was 36 percent, according to data compiled by Bloomberg. This would be the highest total for an entire year since 1999.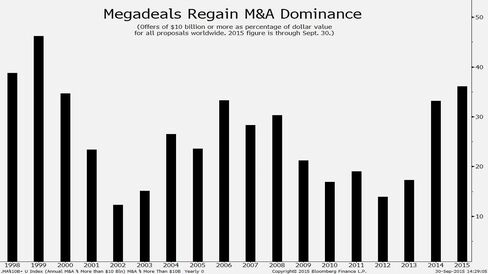 M&A in general and megadeals in particular have yet to reach a peak, Lapointe wrote yesterday in a report with two colleagues, Alex Bellefleur and Francois Boutin-Dufresne. The Montreal-based strategists cited three reasons to expect a pickup in proposals:
-- "Decreasing revenue growth across the globe means corporations will need to seek new markets," which they can enter through deals. Sales at companies in the Standard & Poor's 500 Index are poised to decline 0.2 percent this year after rising 3 percent last year, according to data compiled by Bloomberg.
-- Cheap financing, thanks to historically high stock valuations and low interest rates. The S&P 500 is valued at about 17 times earnings even after the index's third-quarter drop of 6.9 percent, the steepest in four years. Investment-grade corporate bonds yield about 4.5 percent on average, according to an index from Moody's Investors Service.
-- "Massive cash piles" that can be put toward purchases. The report cited data, compiled by the Federal Reserve, that showed U.S. companies had checking and savings deposits totaling $1.08 trillion as of June 30.
Royal Dutch Shell Plc's offer to buy BG Group Plc and Charter Communications Inc.'s bid for Time Warner Cable Inc. are this year's biggest deals, according to data compiled by Bloomberg. Both were valued at about $79 billion initially.
Before it's here, it's on the Bloomberg Terminal.
LEARN MORE