Mas's Martyrdom Ploy on Catalan Ballot Won't Deflect Graft Flak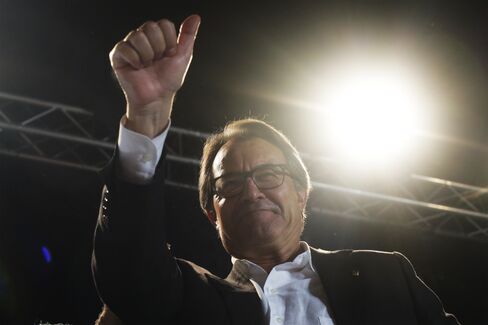 Regional leader welcomed probe of 2014 vote on independence

But graft claims may complicate efforts to build coalition
Catalonia's acting president, Artur Mas, is reveling in the criminal probe that could see him convicted for staging a vote on independence. He may not find it so easy to deflect a party graft case that's also working its way through the courts.
Police in Tarragona, Catalonia, are assessing evidence following a search of the Barcelona headquarters of Mas's group, Convergencia, as they investigate an alleged bribery ring involving party officials, according to a press officer from the force. Mas himself isn't subject to any graft investigation.
The Catalan leader has survived a string of electoral setbacks and a schism in his party over the past three years as he plowed ahead with a campaign to win independence from Spain that upset some of his traditional supporters. The party corruption allegations threaten to complicate his efforts to put together a coalition for a third term in office and put a dent in the separatist effort that has roiled bond markets.
The extra yield investors demand to hold Spain's 10-year bonds instead of similarly dated German bunds has dropped by 10 basis points since Mas fell short of a majority in Sunday's election. The spread had jumped more than 30 basis points in the run up to the vote.
Officials from Convergencia say the Aug. 28 raid was politically motivated and designed to discredit the party as it geared up for the ballot.
"We don't have anyone named as suspect in this case, so we are waiting to hear," said Francesc Sanchez, the party's chief press officer. "The search was excessive, and we noticed that it happened just before the election campaign."
Coalition Talks
Mas missed out on a majority on Sunday after leading his party into an alliance with other separatist groups. Now he needs to persuade the anti-capitalist Popular Unity Candidacy, known as the CUP, to support him to sustain the campaign for independence.
While the group shares his goal of a Catalan state, it disagrees with him on almost everything else, has pledged not to support him, and has taken a political stand over earlier Convergencia corruption allegations. Should graft claims dominate the headlines during coalition talks as they did following the Aug. 28 raid, that will make it harder for the CUP to find a way to support Mas's project without alienating its voters.
So far the Catalan leader has been able to turn legal attacks to his advantage.
This week he was named as a suspect and called to testify by a Barcelona court investigating whether he committed a crime by opening the region's schools and other public buildings for a referendum on independence last year. Spain's Constitutional Court had ruled the ballot was illegal and ordered public officials not to proceed with it.
On the Offensive
Mas's response to that ruling was to go on the offensive.
"I confess to being a democratic rebel against the government for not letting us put out the ballot boxes," he said in an interview Wednesday with the regional government-controlled Catalunya Radio. "Legally I didn't disobey. Politically, there was a democratic rebellion."
Politicians from across the spectrum rallied round him. The Catalan leader's most important ally, Oriol Junqueras, said the ruling was one more reason to push for independence and CUP voiced support. Podemos leader Pablo Iglesias, who sits in the European Parliament, wrote to the European Commission saying that "making ballots available to allow the people to express their opinion can't be a crime."
The investigation that saw the party headquarters searched may be more damaging. Should the evidence obtained prove strong enough, either the police or prosecutors may recommend that the local judge name party officials as criminal suspects.

Party History
If, on the other hand, the party's claims of political malfeasance prove accurate, it wouldn't be the first time that officials from Mas's party have been targeted with false corruption allegations. El Mundo newspaper, which opposes Catalan independence, splashed details of a supposed UBS AG Swiss bank account belonging to the former Barcelona Mayer Xavier Trias last year. UBS subsequently denied that the account existed.
Still, the party has been unable to completely refute its links to corruption since Mas's political mentor and predecessor as regional president, Jordi Pujol, confessed to hiding millions of euros from Spanish tax authorities during his decades in power. Pujol ruled Catalonia for 23 years and Mas served as his head of public works and then finance chief. So Mas is politically vulnerable to a resurgence of corruption allegations about the party.
"There are a lot of corruption cases involving people from Convergencia," said Josep Manel Busqueta, a Catalan lawmaker from the CUP. "He might be better to start looking for supporters somewhere else."
Before it's here, it's on the Bloomberg Terminal.
LEARN MORE