Economists See a Pop in Wages, for Real This Time
Hourly pay is set to pick up, according to economists ahead of Friday's jobs report
For those accused of crying wolf about wage growth, Friday might bring an opportunity to say, "I told you so."
Average hourly earnings have barely budged from 2 percent year-over-year gains throughout this six-year expansion. As the labor market tightened further last month, economists are predicting that rate sped up to 2.4 percent, the most since August 2009, according to the Bloomberg survey median ahead of the monthly jobs report.
Pay growth has been tough to celebrate this year, and even more difficult to predict. In each of the eight months through August, economists' median estimate was off the mark — four times in each direction.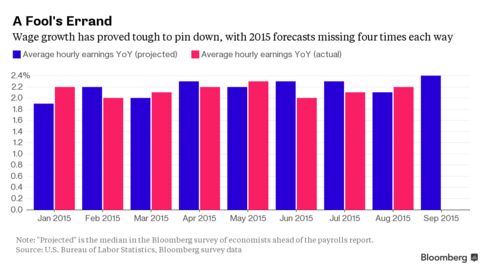 So what reason do we have to expect a meaningful jump in wages this time, aside from a weak number in September 2014 as an easy comparison? For starters, jobless claims remain at their lowest in decades, the unemployment rate is at a seven-year low and measures of slack in the labor market are making further progress toward pre-recession levels. In other words, the jobs market is tilting more toward the worker, pressuring employers to pony up on wages (or other incentives) in a bid to attract and retain staff.
"It's not a big acceleration. It's a little bit above the range it's been at for the last few years, but given the tighter labor market, it's what one would expect at this point," said Jay Feldman, an economist at Credit Suisse in New York who's among those forecasting wages grew 2.4 percent in September from the year before. "There's a little bit less slack, and a lot of survey data have been pointing to faster wage growth for some time."
Commerce Department figures earlier this week hinted at bigger pay gains, with wages climbing 0.5 percent in August after a 0.6 percent advance the prior month. That marked the strongest back-to-back increases this year.
Perhaps more convincingly for the year-end outlook are recent survey data from employers and employees alike that reveal more optimism about an imminent boost to paychecks.
The share of Americans expecting an increase in income in the next six months was 19.1 percent in September, according to Conference Board data. That's the highest since January (19.5 percent) and the second-highest since the group changed how they survey respondents in November 2010: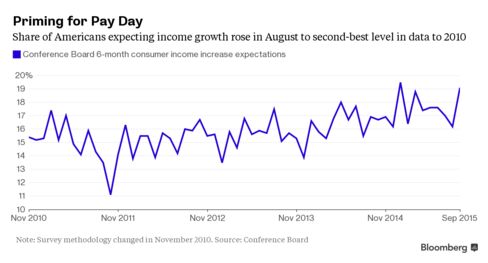 On the hiring side, a net 13 percent of managers said in September they had plans to boost pay, matching the prior month's reading and outpacing the 8.6 percent average share since the expansion began, according to 556 responses to the monthly poll by the National Federation of Independent Business.
The next big hint at wage increases will be the Employment Cost Index release on Oct. 30. The gauge has some ground to make up: After showing a 2.6 percent gain in the first quarter of 2015 compared to prior year, it eased to 2 percent in the following three months: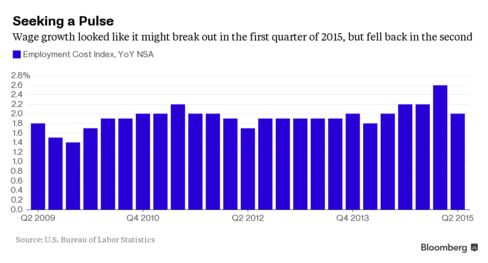 And if all that's not encouraging enough for your bank account, you could always apply to be a business systems analyst.
Before it's here, it's on the Bloomberg Terminal.
LEARN MORE