U.S. Stocks Rebound as Jobs Data Weakens Dollar; Bonds Rally
10-year rate plunges past 2% for first time since August

S&P 500 reverses 1.5% morning rout to close higher by 1.4%
U.S. stocks staged the biggest intraday turnaround from a loss of more than 1.5 percent in four years, as a weakening dollar fueled a rally in commodity producers. Treasuries surged on speculation the Federal Reserve will keep rates lower for longer after a disappointing jobs report.
The Standard & Poor's 500 Index's rebound from a 1.6 percent slide to a gain of 1.4 percent was its biggest since October 2011. The gauge has fallen at least 1 percent only to close higher by more than 1 percent on just 45 occasions since October 1985. Energy and raw-materials producers surged as commodities from oil to gold rallied. The yield on 10-year Treasuries sank below 2 percent for the first time since August, while a dollar gauge weakened to a two-week low.
The disappointing payrolls report increased the likelihood that near-zero interest rates will persist into next year, keeping in place stimulus that has underpinned the 6 1/2 year bull market. The weaker dollar bolstered assets from gold to developing-nation stocks, and boosted the earnings prospects for U.S. companies that do business overseas.
"It's a combination of the dollar and the vindication of the Fed," said John Stoltzfus, the New York-based chief market strategist at Oppenheimer & Co. "They were looking at the strength of the dollar in terms of the competitiveness of U.S. companies and giving consideration to all of that. Don't fight the Fed, don't fight the tape."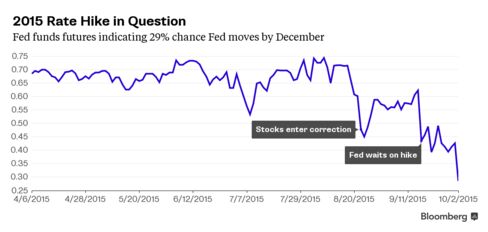 The probability the Fed will move by its Dec. 15-16 meeting fell to 34 percent from 46 percent before the jobs data, according to futures data compiled by Bloomberg. The odds for the January meeting slid below 50 percent.
Stocks
The S&P 500 climbed 1.4 percent at 4 p.m. in New York, while the Dow Jones Industrial Average wiped out a 258-point slide to finish higher by 1.2 percent. Pfizer Inc. and Chevron Corp. climbed more than 3.9 percent, while Caterpillar Inc. added 1.9 percent.
The S&P 500 rose for a fourth day, capping its the longest winning streak since July. The gauge rose 1 percent in the week as it overcame a 2.6 percent rout on Monday that left it at the lowest level since Aug. 25. The index is coming off its worst quarter since 2011 after a four-day rout of 10 percent in late August pushed it into a correction.
While the jobs data initially sparked concern that the slowing global economy and recent financial-market turmoil were now threatening growth in America, investors reassessed the data and found signs of encouragement.
"While it was a big disappointment, I don't think it changes the overall picture," said Kate Warne, an investment strategist at Edward Jones in St. Louis. "I wouldn't peg one jobs report, even with previous revisions, as stemming improvements out there. But it's obviously going to take longer, and the choppier path and more erratic data is likely to occur as the economy works through the rough patch."
Commodities
The Bloomberg Commodity Index jumped 0.9 percent as crude surged after U.S. explorers reduced the number of rigs drilling for oil to a five-year low, signaling further drops in production.
West Texas Intermediate oil futures added 1.8 percent to settle at $45.54 a barrel. Baker Hughes Inc. said rigs targeting oil in the U.S. fell by 26 to 614.
Gold futures climbed for the first time in six sessions, with the contract adding 2.1 percent to settle at $1,136.60 an ounce. Silver rallied the most since December, while platinum and palladium advanced in New York.
The precious metals have slumped this week amid U.S. rates speculation that reversed on Friday. Higher borrowing costs would curb the appeal of bullion, which doesn't pay interest or give returns like assets such as bonds and equities
Currencies
The Bloomberg Dollar Spot Index fell 0.3 percent to the lowest since Sept. 21, paring an earlier slide of 0.7 percent. The U.S. currency dropped 0.1 percent to $1.12045 per euro after falling more than 1 percent earlier.
"Anything that removes or pushes out Fed tightening is going to weigh on the dollar," said Roger Bayston, senior vice president and director of fixed income at the Franklin Templeton fixed-income group in San Mateo, California.
The dollar has rallied this year on speculation that an improving labor market and strengthening economy will prompt the Federal Reserve to raise interest rates for the first time in almost a decade.
Bonds
Treasuries rallied as 10-year bonds headed for their best week since August. The yield on the note fell below 2 percent for the first time since August, losing six basis points to 1.98 percent. It earlier fell as much as 13 basis points.
Liftoff wagers have ebbed since the central bank's decision to stand pat at its meeting last month, even as officials have sought to prepare investors for an increase. While Fed Chair Janet Yellen said last week that she was among policy makers who consider a boost would likely be appropriate this year, Friday's data undermined investors' confidence in that stance.
Emerging Markets
The MSCI Emerging Markets Index rose for a third day, advancing 1.1 percent and extending this week's increase to 2.1 percent. Stocks tumbled 19 percent in the third quarter, the biggest drop for the period since 2011, amid concern China's slowdown was worsening.
A gauge of 20 developing-nation currencies increased 0.5 percent, reversing its decline for the week, led by commodity-exporting nations including Colombia, South Africa and Brazil.
The measure of Chinese companies listed in Hong Kong, which recorded the biggest third-quarter slump of any major global index except its Shanghai counterpart, jumped 3 percent. China is rolling out tried and tested stimulus measures -- easing mortgage requirements and promoting purchases of cars -- as it seeks to meet this year's growth targets. Mainland markets remain closed until next Thursday.
Before it's here, it's on the Bloomberg Terminal.
LEARN MORE