U.S. Buyout Mega Deals Signal More on the Way Before Reset
Seven U.S. private-equity deals of more than $3 billion in 3Q

Buyout firms `aggressively looking' for investments: Banker
A near-record third quarter for U.S. private-equity deals may have set the scene for a bumper end to 2015. Don't be surprised if the grand finale is also on its way.
Seven deals of more than $3 billion involving a U.S.-based private-equity acquirer were announced in the third quarter, according to data compiled by Bloomberg, including two large technology deals -- Carlyle Group's $8 billion acquisition of Symantec Corp.'s Veritas, and Vista Equity Partners's $5.2 billion takeover of Solera Holdings Inc. That's the most in any quarter since 2007.
Overall, U.S. buyout firms snapped up $97.3 billion of assets during the quarter, a 56 percent jump compared with the same period last year. Technology deals led the way, accounting for more than a fifth of the funds spent.
Large amounts of capital available for deals, appealing valuations, low interest rates and activists pushing for carve-outs and takeovers are driving activity, Bill Sanders, managing director and head of financial sponsors at Morgan Stanley, said in a phone interview. Recent stock market volatility may actually increase deal volumes, as companies seeking a buyer turn to private-equity funds that may be willing to pay higher multiples than listed strategics, he said.
"There is as much capital available as there was pre-2007, and you have volatility in the equity market," Sanders said. "If this market trades off a little more, and I'm not predicting that it necessarily will, one could argue that the public-to-private market should actually pick up pace, not decelerate."
U.S. buyout firms spent more than $500 billion on acquisitions in both 2006 and 2007, according to data compiled by Bloomberg, before the global financial crisis stymied activity. Volumes haven't gotten close to that level in the past eight years, but are on track to pass $300 billion in 2015 for the first time since the downturn.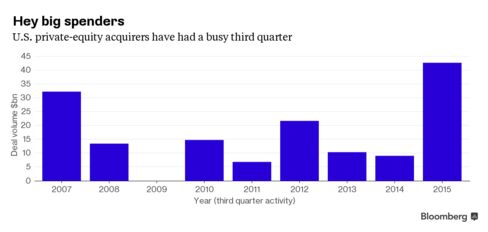 Activist Pressure
Continued activist pressure on large companies will add to the number of big deals still to come, said Karen Simon, head of North America financial sponsor coverage at JPMorgan Chase & Co. Symantec hired JPMorgan to defend against activists, before deciding to break its company into two and eventually sell Veritas. Informatica Corp., the software company that sold itself to private-equity firm Permira Advisers and Canada Pension Plan Investment Board in April for $5.3 billion, was pushed toward a sale by Paul Singer's activist hedge fund, Elliott Management Corp.
Elliott is again agitating for asset sales at Citrix Systems Inc., which has hired Goldman Sachs & Co. to seek divestitures of divisions including GoToMeeting and NetScaler to private-equity firms, people familiar with the matter have said.
7th Inning
Others see more ominous signs as private-equity deals increase in size. The attraction of larger deals could signal an impending slowdown in activity, to be followed by a reset in valuations, said Roger Hoit, managing director at Moelis & Co.
"I think we're fairly late in the economic cycle -- maybe the seventh-inning stretch," Hoit said. "At this point in the cycle, large-cap buy-side attention tends to focus more on companies' growth and consistent cash flow, rather than companies that are more cyclical in nature."
Public market valuations are "pretty full by historical standards," according to Chris Sullivan, Barclays Plc's head of financial sponsors for the Americas. That's pushing private-equity firms to look for larger, more mature companies that have consistent and predictable revenue streams, such as software, he said.
"If you're going to pay pretty full multiples on a historical basis, you want to do it in sectors that have attractive growth and robust free cash flow," Sullivan said.
Buyout firms are "very aggressively" looking for companies in which to invest, with a lot of money already having been raised, said Hoit. That's driven managers to take the initiative and reach out to public companies across sectors, he said.
They've got plenty of money to spend. Blackstone Group LP and Hellman & Friedman have raised an aggregate $28 billion for their latest respective buyout pools in the past 12 months, while Advent International and BC Partners are among the groups in the process of coming to market.
"There are some names and industries which will come into focus which were
previously considered out of reach," said JPMorgan's Simon. "Put that together in the cauldron and we would not be surprised to see more larger deals going forward."
Before it's here, it's on the Bloomberg Terminal.
LEARN MORE