Hong Kong Stocks Are Bargains to Pictet After $1.6 Trillion Rout
Hang Seng Index historically performs best in fourth quarter

Pictet's head of Greater China equities predicts 10% advance
Pauline Dan predicts Hong Kong equities will rebound at least 10 percent by year-end after a selloff this quarter made the Hang Seng Index the worst performer in developed markets. She's got history on her side.
Shares in the world's fourth-largest stock market have historically performed best in the fourth quarter, with the benchmark gauge recording a 5.8 percent gain on average, according to data compiled by Bloomberg. After tumbling 21 percent since the end of June, valuations in Hong Kong are the lowest since 2003 versus global counterparts.
"There's a high chance we will see a rally because technically, the market is very oversold," said Dan, head of Greater China equities at Pictet Asset Management in Hong Kong, which oversees about $164 billion globally. "A lot of the bad news has already been priced in."
The biggest quarterly selloff since 2011 has erased $1.6 trillion of market value in the former British colony after slowing Chinese growth and the prospect of higher U.S. interest rates spooked investors. Dan says the rout has created bargains because Hong Kong companies still have healthy balance sheets and above-average dividends.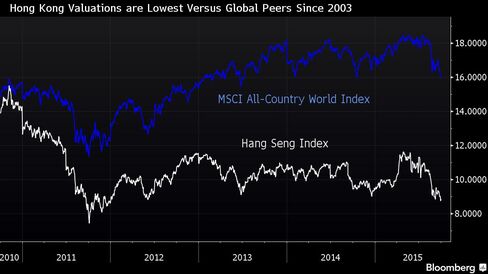 The Hang Seng Index has an indicated dividend yield of 4.2 percent, compared with 2.9 percent for the MSCI All-Country World Index, data compiled by Bloomberg show. The Hong Kong gauge is valued at 8.8 times reported earnings, versus 16 for the global measure.
The Hang Seng's average advance in the fourth quarter is more than twice as big as the 1.9 percent mean increase for the three months through September. The gauge has posted average gains of 3.6 percent in the second quarter and 1.5 percent in the first.
The Hong Kong stock index rose 1.4 percent at the close. The measure posted its fifth month of decline in September, its longest streak of monthly losses since 2002.
While the Hang Seng index's valuation is approaching levels that foreshadowed past recoveries, Andrew Clarke, director of trading at Hong Kong brokerage Mirabaud Asia Ltd., doesn't expect a rebound any time soon.
China's economic slowdown and surprise devaluation of the yuan are squeezing corporate earnings as cross-border demand wanes. Hong Kong's dollar peg means the former British colony will import higher interest rates from the U.S. as soon as this year, putting pressure on an economy where financial services and real estate are among the biggest drivers of growth.
Analysts predict earnings at the city's listed companies will drop 10 percent over the next 12 months, compared with a 15 percent increase for MSCI's global index, according to data compiled by Bloomberg.
Tough Outlook
"It's looking pretty grim at the moment," Clarke said by phone. "I'm hoping we could see an uptick towards Christmas, but it's going to be quite tough."
There are signs China's 10-month campaign to relax monetary policy is filtering through to the economy as financial conditions ease, a shift that could help stabilize the nation's expansion rate and bolster Hong Kong companies that do business on the mainland. Bloomberg's China Monetary Conditions Index, a gauge that includes inflation-adjusted interest rates and the exchange rate, improved for a second month in August -- the first back-to-back gain since 2013. Episodes of improvement in the past have tended to presage either an acceleration or a stabilization in economic growth.
"The concerns about China are overdone," said Andrew Gillan, Singapore-based head of Asian equities excluding Japan at Henderson Global Investors, which oversees about $130 billion. "China is still going to grow at more than 6 percent and that's going to give us a lot of opportunities."
Before it's here, it's on the Bloomberg Terminal.
LEARN MORE