Congo's Katumbi Signals Bid for Presidency by Quitting Party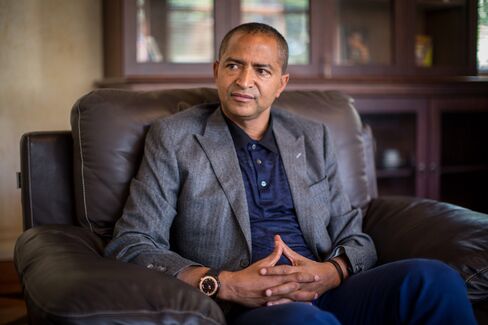 Moise Katumbi, the longtime governor of the Democratic Republic of Congo's copper-rich Katanga province, signaled his intentions to run for president by quitting the ruling party and warning against attempts to delay elections.
Katumbi, 50, resigned from the People's Party for Reconstruction and Democracy "to regain my freedom of speech and action," according to a statement e-mailed Wednesday. "I call for the creation of a large force around democratic and republican values."
Congo, Africa's biggest copper producer and the world's largest source of cobalt, is preparing to hold six elections over the next year that will culminate in a vote for a new president in November 2016. Opposition groups say the packed election program is designed to fail and allow President Joseph Kabila to extend his presidency beyond a second term, which the constitution stipulates should be his final one.
"As we enter the final stretch of the president of the republic's last constitutional mandate, facts show that for the last year, everything seems to have been done to bypass the constitution, with delays, vagueness and illegibility of the electoral cycle and a strategy of shift of the election dates," Katumbi said.
Congolese Information Minister Lambert Mende dismissed Katumbi's announcement, linking the resignation to the actions of a group of opposition leaders, known as the G7, who were banished from the ruling coalition earlier this month.
He also accused Katumbi and the G7 of consorting with Congo's traditional trading partners such as the U.S. and Belgium, whom he described as "imperialists who do not accept the diversification of Congo's development partners."
Katumbi is owner of TP Mazembe, one of Africa's top soccer clubs, and since 2007 has been governor of Katanga province, source of most of Congo's copper. In an interview in November 2013, he said he planned to planned to return to private life, amid speculation he might seek the presidency.
Before it's here, it's on the Bloomberg Terminal.
LEARN MORE