Abbas Renounces Palestinians Commitments to Israel at UN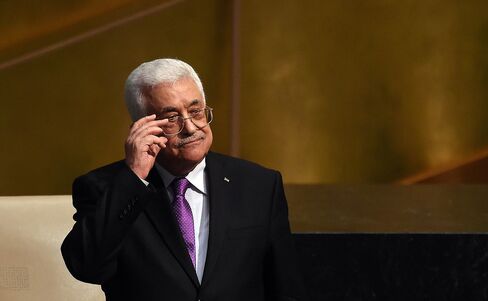 Palestinian President Mahmoud Abbas announced at the United Nations General Assembly that he is no longer bound by accords signed with Israel.
Israeli has continually breached the political, security and economic arrangements put into place under the Oslo peace accords, Abbas told the 193-nation assembly in New York.
"We therefore declare that we cannot continue to be bound by these agreements and that Israel must assume all of its responsibilities as an occupying power," the Palestinian leader said from the UN podium in New York. "The status quo cannot continue."
The practical implications of Abbas's remarks weren't clear, as the Palestinian leader has made similar comments in the past while continuing to cooperate with Israel on some security and economic activities. Abbas said the Palestinians will keep pursuing legal action against Israel in international courts and with other global bodies.
With peace talks between the two sides on hold for more than a year, tensions rose over the past month amid violent clashes at a Jerusalem shrine holy to both Muslims and Jews.
Abbas's UN remarks "were lies that only encourage incitement and instability in the Middle East," Israeli Prime Minister Benjamin Netanyahu's office said in an e-mailed statement. Israel expects "the Palestinians to act responsibly and respond to Prime Minister Netanyahu's offer for direct peace negotiations," according to the statement.
Abbas was "just waving a threat only in front of the United Nations," Ismail Radwan, a senior Hamas leader, said in a phone interview. "We didn't hear from him annulling all the agreements he signed with Israel."
Before it's here, it's on the Bloomberg Terminal.
LEARN MORE