Romanian Premier Wins Confidence Vote as Graft Trial Looms
Victory bolsters premier's bid to ride out corruption scandal

Opposition can't hold another ballot before February
Romanian Prime Minister Victor Ponta defeated a second no-confidence motion against him in four months, bolstering his hold on power as the opposition demands he resign over a corruption scandal.
Lawmakers from the ruling coalition boycotted the ballot Tuesday in Bucharest, leaving Ponta's opponents in the 550-seat parliament short of the 276 votes needed to oust him. Another ballot can't be held before February, giving Ponta time to focus on his survival.
Ponta has faced growing pressure to resign after becoming Romania's first sitting head of government to face criminal trial on charges including money laundering that date back to his time as a lawyer. While President Klaus Iohannis has repeatedly called on Ponta to step down, his party has backed him to see out his term before standing aside at elections next year.
"I'm done with useless political battles and I plan to focus fully on governing the country," Ponta, who denies wrongdoing, told reporters after the vote.
The leu was 0.2 percent weaker at 4.4251 against the euro, leaving this year's gain at 1.2 percent, data compiled by Bloomberg showed. The yield on the government's euro-denominated debt due 2024 rose four basis points to 2.66 percent.
Ponta's Social Democrats will meet next month to choose a new leader, with the only candidate being interim head Liviu Dragnea, a former deputy premier who resigned after receiving a suspended one-year prison sentence for helping rig a referendum. Ponta stood down as leader in the wake of the scandal.
"This will be the next major test for Ponta, whose future is still uncertain because he became more and more isolated and undermined inside his own party after Dragnea took the reigns," Adrian Moraru, an analyst at the Institute for Public Policies in Bucharest, said by phone. "It's very hard to say whether he'll make it to the 2016 elections."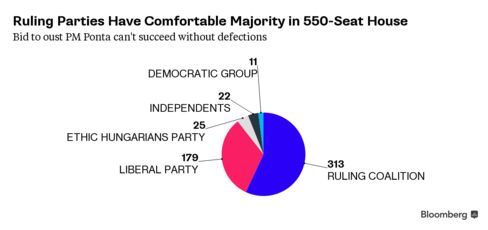 In the meantime, Ponta must prepare his defense in the graft trial, while also working on next year's budget and planned changes to legislation on state wages, and potentially initiating talks with the International Monetary Fund about a new backstop loan accord.
The Social Democrats trail the Liberal Party in the latest opinion poll, with 37 percent to their opponent's 45 percent. The July survey by pollster Inscop had a margin of error of 3 percentage points.
Before it's here, it's on the Bloomberg Terminal.
LEARN MORE