Ralph Lauren to Step Down as CEO, Hand Reins to Gap's Larsson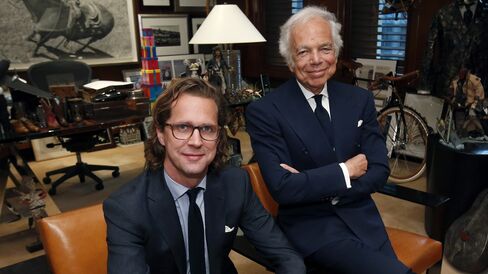 Larsson led Gap's value-focused Old Navy chain since 2012

Management changes are planned to take effect in November
Ralph Lauren, the man whose name has become synonymous with preppy fashion across the globe, is stepping down from the top job at the clothing empire he founded a half century ago. With sales growth fading, the stock down this year and Lauren days away from his 76th birthday, the company named Stefan Larsson, a rising retail star credited with reviving Gap Inc.'s Old Navy brand, to take over as chief executive officer.
The stock jumped 14 percent on Wednesday to $118.16, the biggest gain in more than nine years, underscoring the sentiment among investors that while Lauren is still the creative mind behind the iconic brand, a younger successor with turnaround credentials was needed to take on new challengers such as fast-fashion rivals and online merchants.
"It's really important to keep the core of the Ralph Lauren brand and all that it stands for, but also to freshen it up," said Liz Dunn, CEO of consulting firm Talmage Advisors. At Old Navy, Larsson "tried to get to the essence of what the brand meant to consumers and move from there -- which probably is the right approach at Ralph Lauren, too."
Lauren will remain with Ralph Lauren Corp. as executive chairman and chief creative officer. Larsson, 41, will take over the CEO job in November and join the retailer's board. As part of the shake-up, Chief Operating Officer Jackwyn Nemerov, who is in her 60s and currently serves as Ralph Lauren's No. 2 executive, will retire from the company.
Old Navy
At Gap, Larsson helped shape the value-focused Old Navy chain into the retailer's star performer since becoming its global president in 2012. Larsson, formerly at Hennes & Mauritz AB, drove sales at Old Navy with an operating model that systematically identifies trends, develops versatile fabrics for the products, tests the items in stores, then ramps up marketing and production. Comparable sales at Old Navy have outstripped the San Francisco-based company's Gap and Banana Republic brands for the past six quarters.
"Stefan Larsson is exceptionally talented, and he will bring our company a fresh and exciting global perspective," Lauren said in the statement. "Stefan and I have a strong personal bond and share a vision for the future of Ralph Lauren."
Wide Ties
Lauren, who was born Ralph Lifshitz, started by selling wide ties at a Bloomingdale's boutique in the late 1960s. The enterprise later expanded into a full clothing retailer known for its reinterpretation of aristocratic American style. The New York-based company, which went public in 1997, has now become what's known as a lifestyle brand, with its name on products ranging from table linens to diaper bags.
Given that he's staying on as creative director and executive chairman, Lauren likely made the decision to relinquish the CEO job on his own, said Pat Cook, CEO of Cook & Co., an executive-search firm. The board also likely conveyed that he needed to do some succession planning because of his age, she said.
"I bet he stays on as creative director as long as he's vertical," Cook said. "No one can replicate his style."
Before it's here, it's on the Bloomberg Terminal.
LEARN MORE