Google Upgrades Chromecast as Video-Streaming Battle Heats Up
TV streaming device features new shape, improved Wi-Fi antenna

Audio device added for streaming songs from smartphone
Google Inc.'s Chromecast is getting its first major upgrade -- and not a moment too soon.
The device, which lets people stream movies and videos from the Web to their televisions, is in the middle of an increasingly heated race with Amazon.com Inc., Roku Inc. and Apple Inc. for the attention of consumers who are turning to set-top boxes to download content in their living rooms.
The new Chromecast, which resembles a small hockey puck, is easier to set up and plug into the back of a TV. It has an improved wireless antenna, which should speed up the delivery of video from Netflix Inc., YouTube and other Internet outlets, Google said in a statement
"It's a totally new design," Rishi Chandra, vice president of product management, said in an interview. "The original Chromecast that we had was kind of techy."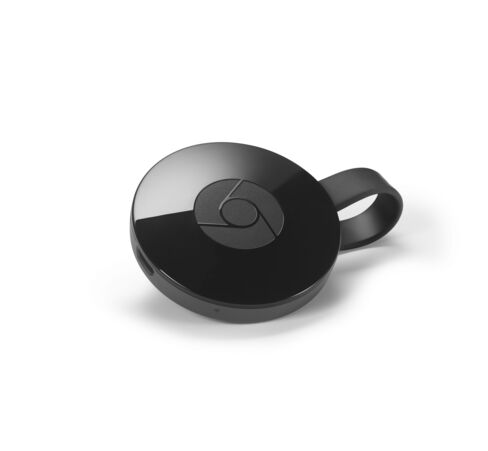 Chromecast, which debuted in 2013, had about 23 percent of the market for streaming digital devices in the first quarter of this year, just behind approximately 30 percent for Amazon's Fire TV devices and 25 percent for Roku, according to estimates by Strategy Analytics. Apple, which is also updating its lineup, was ranked fourth at 18 percent.
Google is also introducing Chromecast Audio, a device for streaming just audio to speaker systems. In addition to the hardware, Google is rolling out a new mobile application to manage the content shown on the devices. By tying its Chromecast devices to smartphones, Google is sticking to its strategy of having users control their viewing experience from a phone instead of a remote control. This is also enables new ways for developers to design games for the TV screen as well, Chandra said.
The new Chromecast, which comes in three colors, will cost $35.
"There's a huge opportunity as the world's going over the top, as streaming's becoming much more predominant," Chandra said. "We keep the hardware simple and affordable, and we use the phone as a way to drive a lot of the great experiences you're going to have."
Before it's here, it's on the Bloomberg Terminal.
LEARN MORE