Glencore Must Stem Rumors, Stop Lehman-Like Moment, L&G Says
CEO Glasenberg needs to speak publicly to quell speculation

Uncertainty at Glencore having `massive contagion effect'
Glencore Plc faces a "quasi-Lehman moment," where rumors about the company's viability hurt the stock amid a lack of information from its leadership, Legal & General Group Plc Chief Executive Officer Nigel Wilson said.
"There's a lot of noise and there's not enough signalling," Wilson said on Bloomberg Television's "Countdown" on Tuesday. "That lack of information causes a huge amount of uncertainty at Glencore, which is having a massive contagion effect across the world," he said, commenting before the market opened. Legal & General is a top-20 shareholder in Glencore with 0.28 percent of the stock, according to data compiled by Bloomberg.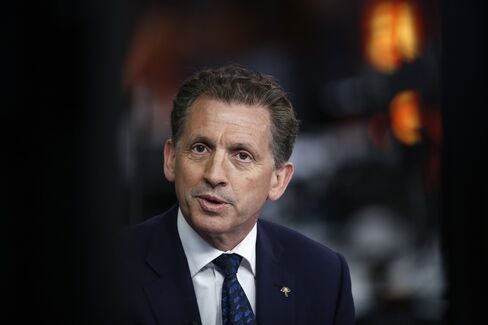 Glencore was up about 17 percent at 80.25 pence at the close of trading in London on Tuesday, paring the previous day's 29 percent drop. The Swiss commodities supplier and miner has lost 73 percent of its value this year amid investor concerns that the company isn't cutting debt quickly enough. Chief Executive Officer Ivan Glasenberg has announced a debt-reduction plan, bought company shares and scrapped a series of dividends in an effort to shore up its balance sheet.
Glasenberg needs to speak directly to analysts and investors "about what's the positive future of Glencore," Wilson said. A Glencore spokesman declined to comment.
The view was echoed by analysts at Jefferies, who said in a note that Glencore must act urgently to "stop the bleeding now," given that investors believe that highly leveraged miners could lose all their equity value if commodity prices fall even slightly and don't recover. In a separate note, Sanford C. Bernstein said it still sees value in both of Glencore's businesses.
Before it's here, it's on the Bloomberg Terminal.
LEARN MORE