Burkina Faso Coup Leader Asks His Men to Disarm as Army Attacks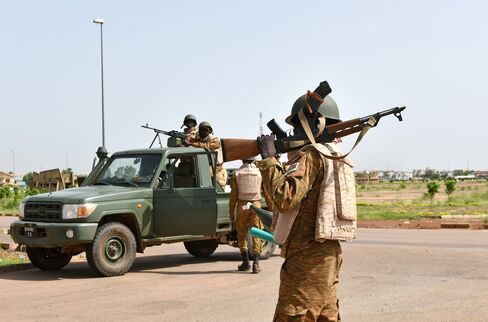 The general who led a short-lived coup in Burkina Faso this month asked his men to hand over their weapons following a brief attack by the national army on the elite unit that plunged Africa's fourth-biggest gold producer into crisis.
"I'm asking my troops to lay down their weapons," Gilbert Diendere said in an address on a private radio station, Omega, based in the capital, Ouagadougou. "We don't want an unnecessary blood bath."
The army fired at the barracks of the disbanded presidential guard, located in the city center near the presidential palace, army spokesman Capt. Guy Ye said by phone on Tuesday. Diendere seized power in a Sept. 16 coup before stepping aside a week later under international pressure. The army warned it would disarm the unit, known by its French acronym RSP, after the West African nation's interim government was re-installed.
Earlier Tuesday, troops arrested Djibril Bassole, a former foreign affairs minister, Ye said, without giving further details. Bassole was banned from standing in presidential elections initially planned for October because he supported a plan to extend the 27-year rule Blaise Compaore, who fled the country amid mass protests in October 2014. Diendere once served as chief of staff to Compaore.
Before it's here, it's on the Bloomberg Terminal.
LEARN MORE