Bespoke: Biotech Stocks Could Fall Another 10 Percent
A short history of biotech bears and bulls.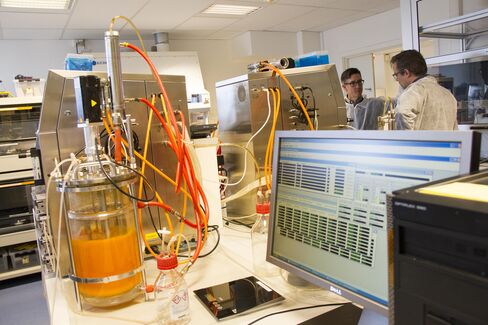 What goes up must come down?

The S&P Biotechnology Select Industry Index fell nearly 5 percent to start the week, as drug price increases undergo major scrutiny. The downward move follows a runup that has seen the index jump, from 1,040 back in September 2011, to 4,110 at the end of June this year—an astonishing 295 percent increase.
Bespoke Investment Group points out that Monday's fall marked the seventh straight day of losses for the index, putting it down more than 20 percent from its recent high. The industry has a history of volatility, but the recent decline has been quite steep, even by its own standards. Here is a longer term chart, for example: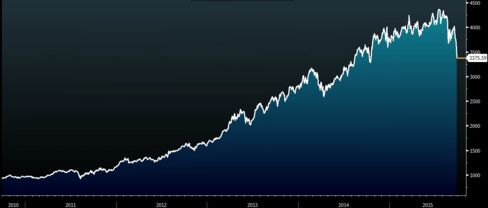 This isn't the first time that the biotech sector has faced a bear market. Bespoke took a look back from 1992 until now to see how long and how steep prior reversals have been for the S&P 500 biotech group.
Here's what it found:
Of the 18 prior bear markets, the average length was about three months (92 days) over which time the index dropped an average of 29.3% (median: -26.7%). Based on these prior declines, if the current bear market follows the average path, it would imply further downside of about 10% over the course of the next three weeks.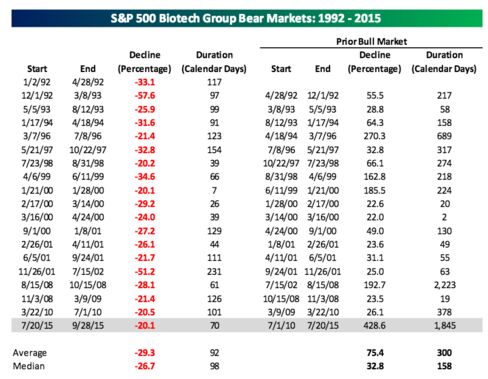 Given the strength of biotech's recent bull market, you might be tempted to think that the current bear could be much deeper and longer. The good news is that there's little evidence to support that assertion, according to Bespoke. Of the four biotech bear markets that followed triple-digit bull markets, declines ranged from 20 percent to 34 percent.
Of course, this time could be different.
Before it's here, it's on the Bloomberg Terminal.
LEARN MORE