Bank Stock `Loser' Status Persists as U.S. Bond Yields Diverge
Cash, dollar, volatility recover from Fed bond-buying program

`Deflationary recovery' may weigh on shares: BofAML strategist
Bank stocks are no better off as the Federal Reserve considers raising interest rates than they were when the central bank was buying bonds to help the U.S. economy, according to Michael Hartnett, chief investment strategist at Bank of America Corp.'s Merrill Lynch unit.
The chart below shows the divergence between bank stocks in the Standard & Poor's 500 Index and yields on 10-year Treasury notes, a contrast that Hartnett cited in a Sept. 24 report. The banks are represented by an index consisting of Bank of America, Citigroup Inc., Comerica Inc., JPMorgan Chase & Co., US Bancorp and Wells Fargo & Co.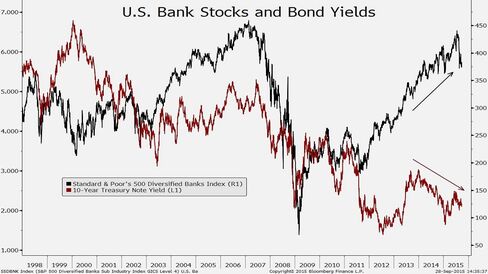 Banks are the "QE loser that has remained a loser," Hartnett wrote. The New York-based strategist was referring to quantitative easing, in which the Fed bought trillions of dollars of bonds in an effort to encourage spending and head off deflation.
While the bond purchases also depressed the value of cash and the dollar as well as market volatility, all three have revived this year, he wrote. By his reckoning, 2015 may prove to be the first year since 1990 in which cash has a higher return than stocks and bonds. The Bloomberg Dollar Spot Index rose 7.4 percent for the year through yesterday and the VIX Index, a stock-volatility gauge from the Chicago Board Options Exchange, rose 44 percent to 27.63.
Gains among bank stocks in 2013 and 2014 failed to receive the kind of validation from higher bond yields that would signal a pickup in economic growth, Hartnett wrote. The 10-year yield yesterday was 2.10 percent, a drop of seven basis points for the year, according to data compiled by Bloomberg. Each basis point amounts to 0.01 percentage point.
All this points toward a "deflationary recovery" that may push stocks lower, in his view. He cited two other potential catalysts for losses: the passing of a peak in liquidity, or the ease of buying and selling, and the prospect of a contraction in manufacturing.
Before it's here, it's on the Bloomberg Terminal.
LEARN MORE